Bundesliga
Dortmund evacuate HQ after discovery of envelope full of icing sugar!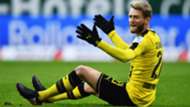 Borussia Dortmund's headquarters were evacuated on Wednesday after the discovery of a white powder that turned out to be harmless icing sugar!
The offices in Rheinlanddamm were forced into lockdown when employees found an envelope full of a suspicious substance. 
'Wenger is like Arsenal's Mugabe'
Up to 40 firefighters were called in to the HQ as fears of a chemical terror attack, similar to those reported in 2001 in the United States, grew. 
That famous outbreak centred around the sending of envelopes filled with the poisonous substance to two Democrat senators and several media outlets. 
But happily, the Bundesliga club's scare turned out to be an elaborate hoax. 
Big thanks to the Dortmund fire brigade. We recieved a suspicious envelope with white powder today," Dortmund said in a statement.
"For security reasons, we evacuated the building completely for about one hour. The powder was investigated in a mobile laboratory.
"We got the results at 17:20: icing sugar. Right now, all Borussia staff are working again."