David Luiz
David Luiz is entering his prime at Chelsea, insists Elliott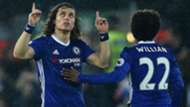 Paul Elliott believes that David Luiz is entering his prime as a defender and has tipped Chelsea star to continue his upward trajectory in the coming years at Stamford Bridge.
Luiz has immediately become a key player at the club since his £32 million return to the Blues from Paris Saint-Germain and Elliott is convinced that he will remain at the top of his game for another three years at least. 
Why FIFA has got to ban heading
"Bringing in David Luiz, people thought, 'you know what, there's a lot of mistakes in him,'" the former Chelsea defender said at the London Football Awards. "But he has been consistent. Not only has he been consistent, he has matured. 
"He is 29-years-old now and that, being a former centre half, is the perfect age for now and the next three years, you are going to see a great consistency for Luiz. He knows now and he is making the right decisions.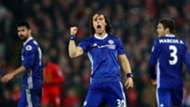 "He isn't taking unnecessary risks, he knows when he should kick it into row Z or when to get it down and play. His concentration has become excellent."
Antonio Conte's switch to a 3-4-3 formation at Chelsea has also helped the Brazil international and he has become a key player in the centre of the three-man defence. 
However, while Luiz has shone in defence, one player who has been confined to the fringes of the team is John Terry, with the 36-year-old making just five league appearances this term.
'Kante wanted to go to Marseille'
Elliott, who spent three years at Chelsea before suffering a career-ending injury in a game against Liverpool in 1994, thinks that Terry is more than deserving of a new contract at the club, despite finding himself marooned on the periphery.
"Of course [he should get a new contract]," he added. "His impact on the club. Impact on the dressing room. Impact on the dugout. He's the manager's confidant. He is a great ambassador for the club, I don't have to sell it to get him a contract, his characteristics speak for themselves. 
"JT is a team player. Of course, he wants to play but the thing with JT is that part of being a leader is accepting the team comes first and the players come first.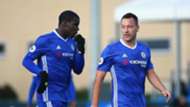 "The club comes first and that part his acceptance and of his great characteristics of being a leader that what's happening and nobody more than him wants the team to keep winning. 
"Of course, he wants to play. The professional inside him wants to play but he is mature enough and sensible enough to do the right thing for Chelsea and that will continue." 
Chelsea have sought to ensure their legends remain at the club after they retire from football with the likes of Paulo Ferreira, Jody Morris and Tore Andre Flo - along with many others - working in coaching and ambassadorial roles. 
Why did Messi make phone gesture?
Elliott believes that policy is another part of Chelsea's continued success as they remain on top of the league, going into their match with West Ham United on Monday at the London Stadium. 
"I think it is important because they represent different generations and that diversity of players is representative in the fan base and I think that's a wonderful thought," he continued. 
"Chelsea are doing the right thing, they are a proper football club off the pitch. Bruce Buck is an outstanding man and a great man. Obviously, [Roman] Abramovich, it has been a wonderful success story for him. 
"He has supported the club in a way that very few have. It has been great and they deserve to win the Premier League."