United States
Alexi Lalas gives Bruce Arena 'A-plus' for revitalizing U.S.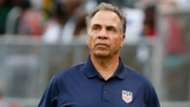 Bruce Arena has not lost since returning to the position of head coach of the United States men's national soccer team. He has won hearts, minds, games, even a tournament in nearly 10 months since being asked to salvage the program's prospects of qualifying for the 2018 World Cup.
Perhaps most important, he isn't Jurgen Klinsmann.
"If you were to grade Bruce Arena in 2017, he would get an A-plus," Fox Sports analyst Alexi Lalas told Sporting News. "What was the mandate? You go in there, and you right the ship. The federation believed it was an emergency situation and they were in danger of not qualifying for the World Cup.
"I just get the sense there is a renewed belief and hope and confidence — from the outside, in terms of how we view this team, and more importantly how the players view themselves in relation to Bruce Arena and what they're trying to do."
Klinsmann's tenure as U.S. coach was not without its successes: qualifying for the 2014 World Cup with two games to spare; progressing from the Group of Death at Brazil 2014; the recruitment of European-based talents with American passports such as John Brooks, Fabian Johnson and Cameron Carter-Vickers.
Ultimately, though, the Klinsmann era was so much about Klinsmann — his odd methods, his curious opinions, his capricious decisions — the growth of the American program was suffocated.
"We just went through a phase where we were led to believe that Jurgen Klinsmann was the guy who had the key to the room we haven't been in yet, because he'd done it as a coach and he'd done it as a player," Fox Sports analyst Eric Wynalda told SN.
"As far as Bruce is concerned, I think we're going to take this as far as our players take it. Bruce is managing a group; the group will push this. That doesn't mean it's all on the players. For the last five years, we've been told to lower our expectations because the players aren't good enough. Bruce isn't about that. Bruce is like, 'Let's figure out a way to make you better than what you are.' Something has to happen that gives our group the belief they can accomplish more than what's expected of them."
That something very well could be the emergence of 18-year-old attacker Christian Pulisic, who is starting and excelling for one of the best teams in Germany, Borussia Dortmund, and who is expected to be positioned at the center of the American offense in its most important games.
Friday evening at Red Bull Arena in Harrison, N.J., the U.S. faces a home game against Costa Rica that could be the most critical in the qualifying cycle. Standing third in the final round of CONCACAF World Cup qualifying — three teams from the "Hex" are assured of advancing to Russia — the Americans have four games remaining. A victory against the Ticos would not guarantee anything, but would put the U.S. in the position of having to screw up to not qualify.
Even with some issues because of injuries to defensive starters Brooks and DeAndre Yedlin, the presence of Pulisic in the middle of an attack that also features Jozy Altidore and Dempsey is reason to be optimistic the Americans can not only qualify but also position themselves to surprise in Russia.
"It's not just from the games," said former U.S. goalkeeper Brad Friedel, speaking to SN as part of a campaign for Allstate. "It's all around the place. It's being around Bruce so he can see who he can feel comfortable with putting into competition for places for the roster — hopefully — when we qualify for the World Cup."
Given how the U.S. men have reacted to Arena replacing Klinsmann, one might say the early stages of Pulisic's national team career are better handled by the coach currently in charge.
Using captain Michael Bradley as an example, Wynalda said American players connect better with Arena because he is less challenged by their ideas and talents.
"Klinsmann was going to fight back. Who do you think you are? I'm in charge here," Wynalda said. "Landon Donovan, you're cut … because I'm the show here. Clint Dempsey, you've done nothing at Tottenham. It was all about ego.
"Bruce is like, I know you usually play here, but you're going to play there today and here's why — but you got this, you're great. The conversation with Klinsmann was, This is what you're doing wrong, and if you do this, we're in trouble. And don't do that; if you do that, I'm pulling you out. It's no fun playing for a guy like that."