A-League
A-League to introduce Asian import rule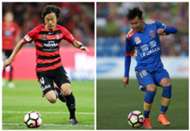 Football Federation Australia (FFA) has announced that the A-League will introduce a 4+1 import quota from the 2018-19 season to bring it closer to the Asian Football Confederation (AFC).
Having previously resisted calls to follow - or at least mimic - the AFC's 3+1 foreign player rule that sees one spot restricted to players from other AFC member nations, FFA has finally flagged a change to the rules.
From the start of the 2018-19 season, A-League clubs will be allowed five imports in their playing squad but one of those spots will have to come from another Asian country.
"FFA has determined to move to a 4-plus-1 structure for the 2018-19 season but will prudently review the implementation to consider all relevant factors and impacts at the end of the 17-18 season," FFA CEO David Gallop said on Monday.
"The 4-plus-1 structure will strengthen the A-League by further integrating Australian football into the Asian community and still ensuring the development of talented Australian players."
The decision will essentially force A-League clubs to engage more with Australia's neighbours when identifying talent.
This season only Western Sydney Wanderers and Newcastle Jets have players from other AFC member nations on their books.
Japanese winger Jumpei Kusukami is at the Wanderers, while the Jets have Chinese midfielder Ma Leilei.
The change is likely to benefit A-League clubs in the AFC Champions League (ACL), which operates the 3+1 rule.
A-League clubs have often had just three foreign players in their ACL squads because they haven't had an Asian player available.
FFA's decision comes just days after the Chinese Football Assocation (CFA) announced they were changing their foreign player rules for the Chinese Super League (CSL).
The CSL has previously operated a general 4+1 rule where only four imports were allowed on the pitch at any one time.
But in the 2017 CSL, only three imports will be allowed on the field at once although all five foreign players will still be allowed in the matchday squad.
The CFA has also abolished the AFC-restricted spot meaning clubs can sign five imports from anywhere in the world.