Manchester United
250! History-maker Rooney saves the day for listless Man Utd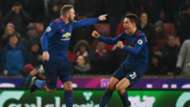 ---
COMMENT
---
History maker and saviour. It has been a while since Wayne Rooney delivered a really memorable, game-changing goal for Manchester United but on Saturday he was the man of the moment as the Red Devils somehow snatched a point when all seemed lost against Stoke City at the Britannia Stadium.
Rooney breaks Man Utd goals record
Months of anticipation have built up ahead of Rooney's 250th goal for the club, the one which takes him past Sir Bobby Charlton as United's all-time greatest goalscorer. But, when it finally happened, the context of the goal far outweighed the personal milestone as he secured a 1-1 draw for his side on what was otherwise an afternoon to forget.
It had been a close call for most of the game as to whether it was going to be yet another Manchester United rescue job or just one of those days. It turned out to be the former, but they should really have earned something from the match far earlier. While Jose Mourinho can rightly point to his team having created chance after chance yet again, the bare fact that United don't quite have the depth of quality beyond their favoured first XI was there for all to see.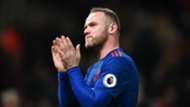 Mourinho shuffled his pack from the team which had pulled a late draw out of the bag against Liverpool, most notably bringing in Marouane Fellaini for Michael Carrick. As a result, their football was far more direct and much less measured. The difference in results depending on the presence or otherwise of Carrick tells its own story.
United fell behind when Juan Mata stuck a foot out as he retreated and inadvertently turned home Erik Pieters' low cross via the body of David de Gea, but while the nature of the goal might have screamed misfortune it was not an undeserved deficit for a ponderous United.
From there on in they largely battered Stoke in a possession sense but rarely seemed likely to develop the killer instinct. Paul Pogba was largely ineffective as a creative force, while anything Henrikh Mkhitaryan tried was done with almost no movement happening around him.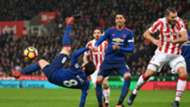 Further up Zlatan Ibrahimovic appeared a confidence-free shell of the man who has struck 19 goals in a United shirt, and Mata continued his textbook afternoon to forget by adding to his own goal with a missed open goal from a Zlatan pass, a habit of losing the ball and later a failure to connect completely when attempting an overhead bicycle kick from six yards out.
Pogba had another shot which went just wide, Marcus Rashford caused trouble out wide as a substitute, fellow replacement Jesse Lingard scraped the bar, and a collection of other promising positions ended in nought. In total they had 25 shots to Stoke's six but it should really not have taken the 25th to finally break down the home side's resistance.
Why Man Utd must sign Griezmann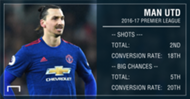 United's unbeaten run continues. It is now 17 games since they have been beaten but whereas they were playing with a strut until the last week ago, they again limped to a result here.
Mourinho has to find a way to get his side to start taking even a moderate percentage of the chances they are creating. It remains the difference between them being world-beaters and them sitting well adrift of the leading Premier League pack.
Rooney will rightly celebrate his feat, but for United generally there are serious worries raising their heads once more.