WTF
The football video games you've probably forgotten about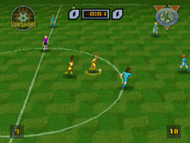 These days, if you want to play football but don't like idea of getting wet and muddy, you've got two choices: FIFA or PES?
They're good choices to have, but there was a time when more football video games were available than we knew what to do with. While some were pretty amazing, plenty were terrible. Here we look back at the footy games from down the years that you might have forgotten about.
---
NEW STAR SOCCER
---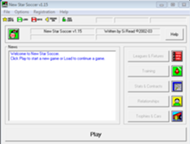 No, we're not talking about the current mobile version of New Star Soccer, the BAFTA-award-winning mobile game that makes you miss your stop on the bus home - this is the very first New Star Soccer. Released back in 2003 on PC, the idea was similar to the game we play today, with the player working their way up through the lower leagues of football. 
It only managed to sell a few hundred copies but in 2006 a new 2D match engine was added and New Star Soccer 3 topped the Download.com charts (the App Store of its time). A 3D version followed but didn't perform as well and, in 2005, New Star Soccer went back to its 2D roots and laid the groundwork for the mobile version we have today.
---
PETER SHILTON'S HANDBALL MARADONA
---
Who wants a video game in which you play the whole match as a goalkeeper? In 1986, Grandslam Entertainment thought the answer to that question was 'everyone' and so released game in which the player controlled just the man between the posts, tasked with saving a series of shots as the computer played out the rest of the match. 
To keep things simple, the action never strayed further than the final third of the pitch. There were 16 teams to choose from and a tournament to play in, but really Peter Shilton's Handball Maradona was a cheap cash-in on the 'Hand of God'. Maradona wasn't even in it!
---
SOCCER KID
---
FIFA 17 saw EA Sports roll out its first story mode in The Journey, which sees players take control of Alex Hunter's rise to stardom in the Premier League. In 1993, Soccer Kid's idea of a narrative was based around an alien trying to steal the World Cup. While beaming the trophy into his spaceship he collided with a satellite, smashing the poor Jules Rimet into five pieces which fell in the debris around the world. Soccer Kid was - you guessed it - tasked with finding them.
Really, Soccer Kid was a standard platform game but rather than jump on his enemies, the kid could kick and head the ball at them and perform trick shots for collectables. Players could also change his kit to match the colours of their favourite team, which was a nice touch.
---
STRIKER
---
In the 1990s there was Striker game for nearly every gaming platform you can remember. Considering the 90s also saw the debut of the FIFA series and International Superstar Soccer (later Pro Evolution Soccer) it was a competitive decade for football games.
Still, Striker earned fans though fun gameplay and innovations like multiple camera angles. Some players loved the game's high speed, while for others it was a bit too much. The greatest innovation, though, was the introduction of indoor matches, which saw balls bouncing off walls and all manner of chaos.
---
THIS IS FOOTBALL
---
With a title like 'This is Football', you might expect the most realistic re-creation of the beautiful game as possible. You'd be wrong.
Despite featuring thousands of officially licensed players, This is Football is best remembered for not taking the game too seriously. There was a button dedicated to two-footed challenges, players could dive and there was even a jumpers-for-goalposts mode that allowed you to play on a school playground with actual jumpers for actual goalposts. Stealing a march on FIFA and its Ultimate Team Legends, This is Football also had the Time Warp Cup, which featured classic teams from the past such as George Best's Manchester United and Alfredo Di Stefano's Real Madrid. Above all, This is Football was simple to play and as such was accessible to new players and a ton of fun.
---
ACTUA SOCCER
---
In the mid to late-90s, football video games were moving away from top-down views and 2D graphics as they tried to harness the processing power of the new generation of home consoles and graphics cards. For many, this meant 3D graphics. 
While FIFA and other games had created 3D stadiums for their games, they still used 2D sprites. Actua Soccer's USP was that its players were packed with polygons and fully 3D. While this makes the game look dated now it was a giant leap at the time - so much so that 1998's Actua Soccer 2 was bundled with the Voodoo 2 graphics card to show off its power. Actua continued to add teams and licenses until the end of the 90s but ultimately lost out to EA's FIFA series.
---
CANNON SOCCER
---
Back in 1993, Sensible Soccer was the best football video game on the planet. The next game from its creators, Sensible Software, was Cannon Fodder, a military strategy game.
To promote their new game they created Cannon Soccer and gave it away on the cover of Amiga Format. It played more like Cannon Fodder than a football game, but it took place on a football pitch and you were fighting against football players so it's made our list. We had to get Sensible Soccer in here somehow.
---
RED CARD
---
Red Card, released in 2003, looked like most football games - the only not-so-subtle difference being that anything goes. 
You could jump in two-footed, tackle the ref and fill up your player's meter to pull off special moves and shots. The game's conquest mode challenged you to beat groups of teams in order to unlock special squads - beat the North American teams, for example, and you'd unlock a team wearing SWAT gear. Realism wasn't at the heart of Red Card.
---
ALL STAR SOCCER
---
Released in 2007, in some ways All Star Soccer was ahead of its time. Rather than use licensed footballers, players could create their own from an assortment of body parts, with each affecting how a player performed. You could also dive! 
Unfortunately, it was rubbish. As well as being terrible to play it featured commentary from impressionist Alistair McGowan, who repeated the same clichéd lines and jokes in the voices of famous football personalities. Asking "if elephants never forget, then why don't they all win Mastermind?" in Eric Cantona's voice was funny at first, but quickly annoying thereafter.
---
LIVERPOOL
---
There's been a number of team-licensed games released over the years. Many, like Liverpool, were terrible and made the mistake of presuming that having only one club to choose from is a good thing. It isn't.
Not only did Liverpool only allow you to play as the eponymous club, it was also a dreadful game to play. The one positive for Reds fans was that the squad was updated each time it was released on a new console, with three versions coming out between 1990 and 1993.
Play the latest version of New Star Soccer by downloading it for free now on iOS and Android.