Uruguay
Suarez ready to bite back after Chiellini nightmare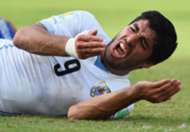 Luis Suarez might have only played 178 minutes of World Cup 2014, but he packed a whole tournament's worth of action into such a short space of time.
Having failed to win a fitness battle to feature in the opening clash against Costa Rica, he justified his reputation as one of the game's deadliest strikers to score twice and eliminate England with one game still remaining. 
Little did the 31-year-old know as he pounced to eliminate the Three Lions that his time in Brazil was also growing short.
In the second half of Uruguay's game against Italy, their third and final one in the group stage, Suarez clashed with defender Giorgio Chiellini. Both players ended on the ground, the Italian looking shocked and confused as his opponent clutched his teeth as if the Juventus man had made to yank them out with pliers.
"I lost my balance… hit my face against [Chiellini], leaving a small bruise on my cheek and a strong pain in my teeth," he claimed in the aftermath of the clash.
As the dust settled, though, it became evident that the incident was more significant than Suarez suggested. 
Chiellini, meanwhile, pulled no punches with his account.
"Suarez is a sneak and he gets away with it because FIFA want their stars to play in the World Cup," he fumed, having won a free kick but seen no further punishment given to the offender. "I'd love to see if they have the courage to use video evidence. The referee saw the bite mark, too, but he did nothing."
FIFA, it transpired, did review the incident and judged that Chiellini should be added to a list that previously included Otman Bakkal and Branislav Ivanovic, players before him that the Uruguayan had practised the unsavoury biting art on before.
A nine-match international ban, a hefty fine and four-month suspension from all football followed, postponing the Barcelona-bound player's competitive debut for the Camp Nou side until October.
His time in Liverpool was dogged with controversy, from the aforementioned bite on Ivanovic to accusations of racism levelled at him from Manchester United defender Patrice Evra that resulted in an eight-game ban, but life in Spain has proven to be rather more placid.
The Reds knew when he arrived from Ajax under the guidance of Kenny Dalglish that he was a player with a hot-headed reputation. Suarez had the shadow of the biting incident earlier in his career, when still playing with Groningen lingering over him, but a goal-line handball in the 2010 World Cup quarter-final against Ghana had already sealed worldwide infamy for a man who didn't seem to care.
"The Hand of God now belongs to me. Mine is the real Hand of God," he said after the game, referring back to Diego Maradona, who punched a ball into the net in Argentina's 1986 quarter-final with England.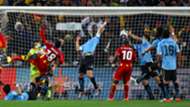 Suarez's save, which came late in extra-time, proved even more decisive. Asamoah Gyan saw his penalty smack the bar, and Uruguay went on to win on penalties, denying the Africans the opportunity to be the first side from their continent to play in a world semi-final. 
"I made the best save of the tournament," he reflected.
Suarez has appeared to be a reformed character before, yet since moving to Spain, issues which were once commonplace have become rare.
The competitive edge remains – he has been booked 42 times and sent off once in 198 outings for the Catalans – but the really big disciplinary problems appear to have been eliminated from his game.
Channelled in the correct manner, Suarez has shown that his aggression and determination can be a major asset. 
Since he got his teeth, quite literally, into Chiellini, he has scored 152 goals in 198 appearances at club level, outstripping even Lionel Messi and Cristiano Ronaldo in the scoring stakes during the 2015-16 Primera Division season.
In Russia, meanwhile, he will be the national team's main man, and with Uruguay boasting a strong squad and handed a kind draw, he is targeting redemption on a spectacular scale.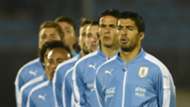 "I want there to be the possibility of this being my World Cup, after leaving the way I did in 2014," he said. "I know people judge me for that, and I would like to be remembered for something else.
"We have a strong team and we believe in our team and our nation, and I would like to be part of something at the World Cup with Uruguay.
"Could it be my World Cup? I hope so."
His heir at Liverpool, Mohamed Salah, may be denied a direct confrontation against his predecessor at Anfield due to his injury, but that will serve only to increase the Uruguayan's prospects of winning the Golden Boot.
After his two previous tilts finished only in infamy, now is Suarez's best shot to make it third time lucky with his country.