MLS
Sizing up the 2018 MLS Cup contenders: All 12 teams ranked
The 2018 Major League Soccer playoff race has its favorites, but unlike last year, when Toronto FC felt like the runaway pick to win the MLS Cup, this year's field feels more wide open.
There are two favorites, the New York Red Bulls and Atlanta United, but the Red Bulls have never won an MLS Cup and Atlanta United is still searching for its first playoff win, giving some teams with championship experience a feeling that the East powers can be toppled.
Sporting KC still boasts some key figures from the 2013 MLS Cup-winning side, while the Seattle Sounders have many of the core players who helped them win the 2016 final.
Then you have D.C. United, a team riding a wave of momentum that looks familiar to MLS fans who have seen hot teams roll to championships after rough starts to the season, like the 2016 Sounders and Real Salt Lake in 2009.
If there's a team that will be a popular dark-horse pick it's Los Angeles FC. Led by coach Bob Bradley, who took an expansion Chicago Fire side to the MLS Cup title 20 years ago in 1998, LAFC has the attacking talent to give teams trouble, though losing Laurent Ciman in the summer puts a dent in their title hopes.
With all that in mind here is a look at all 12 playoff teams' chances of winning the MLS Cup, why they could win and why they probably won't win:
---
1. NEW YORK RED BULLS
---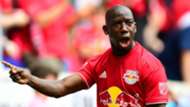 Odds of winning: 4/1
Why they will win: The Red Bulls are a complete team, boasting the league's best defense, a high-pressing system that smothers opponents and a deadly finisher in Bradley Wright-Phillips. They're the league's best team at home and will host the MLS Cup final if they get there, making this really feel like it could be the year their cup drought ends.
Why they won't win: Their defense is rock solid, but if there's a vulnerability it is an attack that can sometimes stagnate when the midfield isn't clicking and providing service to Wright-Phillips. If their attack stalls, it can open the door for knocking them off, as we saw in the Concacaf Champions League semifinals against Chivas.
Outlook: The Red Bulls, when at full strength, are the best team in the league, and they head into the postseason with their full squad playing well. There will be some tough tests, but their record against top teams this year is unmatched, and if they get to the MLS Cup final beating them at home will be extremely difficult.
---
2. ATLANTA UNITED
---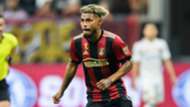 Odds: 6/1
Why they could win: If Miguel Almiron returns and finds his top form Atlanta's attack will once again be tough to stop.
Why they won't win: Their record against the top eight teams in MLS is a surprising 1-4-4, meaning the teams they are likely to see in the later rounds have had plenty of success against them. The playoffs are a more physical brand of soccer, and if Atlanta can't adapt to that it could be another early exit.
Outlook: Atlanta United has to like it's chances against New York City FC in the conference semifinals, assuming NYCFC can get past Philadelphia. In that case, there'll be a better chance to have Almiron at 100 percent against the Red Bulls in the Eastern Conference finals matchup most expect to see. The Five Stripes haven't been able to beat the Red Bulls, but if they finally knock them off, an MLS Cup final at a sold-out Mercedes Benz Stadium could offer the perfect title-winning send off for Tata Martino.
---
3. SPORTING KANSAS CITY
---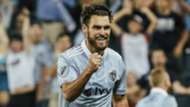 Odds: 7/1
Why they could win: After four straight years of losing on the road in the knockout rounds, SKC now has the top seed in the West. Their wins against FC Dallas and LAFC to close out the regular season give them major momentum, and their attack has been clicking at the right time, which coupled with their strong defense gives them excellent balance.
Why they won't win: They have been scoring goals, but the lack of a go-to scorer up front could be a problem against the better defenses they'll face.
Outlook: Sporting KC will have the benefit of being rested in the conference semifinals, and they'll be the favorites against any team they face. A potential conference final against Seattle or LAFC would be very entertaining, and aside from the Red Bulls, you'd have to like Sporting KC's chances against anybody else in the East in the final. 
---
4. SEATTLE SOUNDERS
---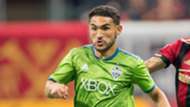 Odds: 10/1
Why they could win: A jaw-dropping 14-2 record in their final 16 regular season matches means the Sounders are riding high heading into the playoffs, and they're as healthy as they've been in a long time. Raul Ruidiaz has given them a dynamic presence up top, their midfield is clicking, and their defense has been very stingy on front of Goalkeeper of the Year frontrunner Stefan Frei. Throw in the experience of consecutive MLS Cup final runs and you have a team that could definitely make it a third trip in three years.
Why they won't win: Their starting lineup has come together to give Seattle as solid a group as there is in the West, but Clint Dempsey's retirement and losing Jordan Morris earlier in the year cut into their depth. Do they have enough bench help to make another deep run?
Outlook: The Sounders have been an overlooked team after another terrible first half, but there's no denying the momentum they have generated and the difference in their team since the arrival of Ruidiaz. They can beat anybody in the West, but would be an underdog in a road MLS Cup final against the Red Bulls or Atlanta United.
---
5. LOS ANGELES FC
---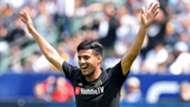 Odds: 14/1
Why they could win: Bradley is as good a coach as there is in MLS and his experience navigating the playoffs will be invaluable. The team's loaded attack, led by Carlos Vela, gives them a chance against anybody.
Why they won't win: Their defense is vulnerable, even more so after Ciman's departure, and Jordan Harvey is a liability at left back that teams like Sporting KC, Seattle and Dallas can all exploit with dangerous players on the right wing. LAFC has made too much of a habit of dropping points at home, managing just nine wins — tied with Philadelphia for the fewest among playoff teams. Sure, LAFC only lost once on home soil, but as important as home legs are, LAFC will need earn take full advantage while at Banc of California Stadium.
Outlook: LAFC is a dangerous team, but a flawed one that will struggle against the higher seeds in the West, which boast more experience together. A win against RSL in the knockout rounds shouldn't be a problem, but beating an in-form Seattle side will be a tall task.
---
6. D.C. UNITED
---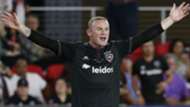 Odds: 18/1
Why they could win: D.C. should dispose of the Columbus Crew and has shown well against both the Red Bulls and Atlanta United. Wayne Rooney and Luciano Acosta are playing some of the best soccer in the league over the past three months, and they can cause problems for even the stingiest defenses.
Why they won't win: The problem is betting on D.C. to be able to get through BOTH the Red Bulls and Atlanta United. That's a tall order, and even if they were to manage that, a road trip to the MLS Cup final against a veteran team like Sporting KC or Seattle would make for a third major hurdle.
Outlook: D.C. will be a popular sleeper pick to make a dramatic run, but speaking realistically, it's tough to see the club beating the Red Bulls in a two-leg series. DCU's outstanding late-season run has been driven in large part by a schedule dominated by home games, and they'll have to deal with at least three road games in some of the toughest venues to lift the club's fifth MLS Cup.
---
7.  NEW YORK CITY FC
---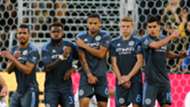 Odds: 20/1
Why they could win: NYCFC is getting healthy at just the right time, with David Villa, Yangel Herrera and Jesus Medina all having missed chunks of playing time. A full strength, NYCFC can beat anybody and would match up particularly well with Atlanta United. The small field at Yankee Stadium gives them a real advantage at home.
Why they won't win: NYCFC's defense isn't known for being the best around and the team's finesse style hasn't held up well in the meat grinder of the playoffs.
Outlook: David Villa scored in the past three matches he played in, so he's hitting his stride, but can the NYCFC midfield provide him with consistent support once the opponents get tougher? Will Dome Torrent be able to adapt to the rougher style in the playoffs, or will he be stubborn like Tata Martino was last season and doom his team to an early exit?
---
8. FC DALLAS 
---
Odds: 22/1
Why they could win: Oscar Pareja is a clever coach and the Dallas defense is one of the best in the league.
Why they won't win: Inconsistency in attack and a lack of a true go-to goal scorer leaves Dallas well below the other contenders and could doom them to a knockout-round exit.
Outlook: FC Dallas has a slight edge over Portland because it's hosting the knockout round match-up, but the way Dallas finished the season, with consecutive losses, doesn't bode well for a deep playoff run.
---
9. PORTLAND TIMBERS
---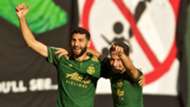 Odds: 24/1
Why they could win: The midfield trio of Diego Valeri, Sebastian Blanco and Diego Chara is as good as there is in MLS, while the Timbers defense, while Giovanni Savarese has plenty of playoff experience leading a team after his years leading the New York Cosmos.
Why they won't win: Lead striker Samuel Armenteros hasn't scored in eight matches and heads into the playoffs in poor form. The Timbers may need to lean on young forward Jeremy Ebobisse to carry the load up top. Defensively, the Timbers have been inconsistent, which isn't what you want heading into the playoffs.
Outlook: The Timbers can definitely go to Texas and knock off FC Dallas, but facing a rested Sporting KC in the West semifinals — a team that shut out the Timbers in both their meetings this year — would likely spell the end of the playoff road.
---
10. COLUMBUS CREW
---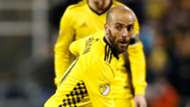 Odds: 33/1
Why they could win: The Crew have the memory of last year's impressive run to the Eastern Conference finals fresh in their minds, and goalkeeper Zack Steffen is the kind of netminder Columbus could ride to another deep run. The Crew have also fared well against the Red Bulls, making a potential conference semifinal clash less daunting.
Why they won't win: The Crew would have to go on the road and beat red-hot D.C. United, then would likely have to beat the Red Bulls over two legs. Even then they would potentially have to beat Atlanta United over two legs just to get to a road final. That path to a title is WAY too brutal.
Outlook: A best-case scenario would likely be upsetting D.C. United and pushing the Red Bulls in a closer battle that some might expect, but the Crew's struggles with generating goals will ultimately doom them to a shorter playoff run than they enjoyed in 2017.
---
11. PHILADELPHIA UNION
---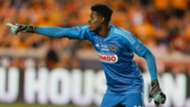 Odds: 40/1
Why they could win: The Union are a young, but confident team, and even though they're coming off a loss they still boast a game-changing goalkeeper and a strong midfield that gives them a chance. They wouldn't be intimidated by a semifinal match-up with the New York Red Bulls.
Why they won't win: They've never won at Yankee Stadium, and even if they manage to do it Wednesday having to navigate through the Red Bulls and then potentially Atlanta United is too much to ask for this young team. There's also the stigma of the Union struggling in big games, and they would have to win a string of them to have any hope of a cup run.
Outlook: Beating NYCFC in the knockout round isn't as big a long shot as it may seem, but the Union are going to need their defense to limit the mistakes, Cory Burke will need to get going again, and Andre Blake will need to put on his Superman cape to have any hope of going much further than the conference semifinals.
---
12. REAL SALT LAKE
---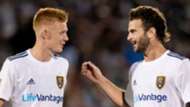 Odds: 50/1
Why they could win: It was nine years ago when RSL went from being the lowest seed in the playoffs to MLS Cup champions. If they can pull the upset over LAFC, they would then force opponents to play at altitude at Rio Tinto Stadium for their home legs. It's a young team playing with house money and no pressure.
Why they won't win: RSL had one of the worst road records in the league, and LAFC suffered just one loss at home all season. Even if RSL finds a way into the West semifinals, having to beat a veteran team like Sporting KC in a two-leg series would be a very tall task.
Outlook: Getting his young team some playoff experience is crucial for Mike Petke's development of this team. A deep run would help expedite that maturation, but it's tough to see RSL dealing with LAFC in Los Angeles, much less getting to the final.