Manchester United
Pogba: Rashford told me he was going to score that free-kick!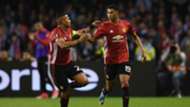 Paul Pogba has revealed that Manchester United team-mate Marcus Rashford predicted finding the target with a spectacular free-kick against Celta Vigo in the Europa League.
The Red Devils looked to be heading towards a frustrating stalemate on Spanish soil until their teenage forward intervened.
Rashford's crucial away goal now has Jose Mourinho's side in control of the semi-final encounter ahead of a return date at Old Trafford.
The 19-year-old England international has made a habit of netting important efforts since breaking into the senior side, with his admission to Pogba suggesting that his confidence is at an all-time high.
Owen: Man Utd better with Rashford
Speaking to BT Sport after the game, Pogba said: "On the pitch, we don't look at the age. He's been doing great this season and we trust him.
"When he took that free-kick, he told me he was going to score and he put it in so that's the most important thing.
"We had a lot of chances, it's happened a lot of times this season, but we have to carry on working on it and keep creating chances."
United would have a more comfortable lead to defend had they been able to make more of the opportunities which came their way on Thursday.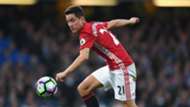 Ander Herrera, though, is happy to be heading back to Manchester in front and with a place in another major final within reach.
He said: "It's not so easy to control the game against this team, they score almost every game. They have a lot of creative players and we have controlled the game.
"We have created a few good chances and Marcus scored a fantastic goal.
Rash the new lion king for Man Utd
"We have to play at Old Trafford but we have done nothing yet, we have to play another 90 minutes and they are a good team. 
"We have to respect them because it is the first time they have played a European semi-final in their history and they are going to give everything at Old Trafford."
The second leg of the tie will be staged on May 11, with United having a crucial domestic clash with fellow Premier League top-four hopefuls Arsenal to take in before then.