Premier League
Pochettino 'happy' at Tottenham amid Barca links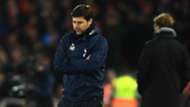 Mauricio Pochettino insists he is happy at Tottenham amid speculation linking him with Barcelona.
Luis Enrique announced earlier this week that he is set to step down from the Camp Nou position at the end of the season, citing his need for a "rest".
Pochettino has subsequently been touted as a potential successor, having previously worked in La Liga with Espanyol, but he has now responded to the reports by claiming he is perfectly content at White Hart Lane.
"I do not want to speak because if I do, it is possible people can twist my words," he replied when asked about the speculation.
"I can only say I am happy here.
"I understand the business, I understand my name is on some lists. It is normal in football today."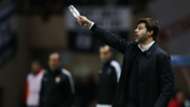 Pochettino has also revealed that he is in regular contact with chairman Daniel Levy as the two attempt to finalise their transfer targets for the summer window.
"Of course I talk with the chairman, as always. We have a very close relationship and we talk nearly every day. We are always talking to try to improve and to learn from our mistakes.
"We learn from our experiences but the good thing is that we have a very good relationship, we are very close. With [chief scout] Steve Hitchen, we are working hard to try to find players to improve our squad for next season.
"We always believe in our targets and that they can help us. Sometimes it will be good, others not so good, but we are excited now to watch and assess players and help the team achieve the things we want."
Spurs are currently second in the Premier League, and face Everton at White Hart Lane on Sunday.