Selangor II
PKNS to replace Selangor in Sultan of Selangor's Cup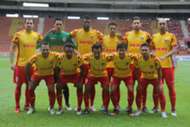 ---
BY        ZULHILMI ZAINAL       Follow on Twitter
---
It seems that PKNS FC will be replacing Super League side Selangor as the representative of the Selangor state team in this year's Sultan of Selangor's Cup.
A letter addressed to PKNS club president Siti Zubaidah Abd. Jabar by the competition organiser has made its rounds on the social media, saying that the club have been selected by the Sultan of Selangor, Sultan Sharafuddin Idris Shah to represent the state team in the match.
Ever since the friendly match, which pits the Selangor state team against a Singaporean side, was first contested in 2002, the Selangor state team have always been represented mostly by the Selangor Super League players. However as a Selangor-based side, PKNS players have also been called up for the match, as well as Selangor-born players of other clubs.
But this will be the first edition in which the Red Ants are taking over the primary spot in the state team. It is not known yet whether the Selangor Super League side will be providing any of their players to the state team for the match.
According to the letter, this year's match will be held on May 6, at the Singapore National Stadium. Meanwhile a Football Malaysia LLP official told Goal that the league organiser has received a formal request by PKNS to reschedule the PKNS-Kedah league fixture, which was originally set to be played on the same date.
the PKNS vs Kedah league fixture, initially scheduled on the same date, will now be rescheduled to make way for the cup match.
The real reason behind PKNS' selection as the state team's representatives over Selangor is unknown, but in the past few months, the Crown Prince of Selangor Tengku Amir Shah ibni Sultan Sharafuddin Idris Shah has voiced his criticism towards the Red Giants' board, saying that it needs to be revamped.
The 2016 edition, held at the Shah Alam Stadium, ended in a 4-3 win penalty shootout to the Singaporean Selection side, after the fulltime ended 1-1.