PSG
Peace, love and harmo-NEY as PSG run wild against Bayern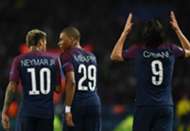 They say "dream bigger" around Paris Saint-Germain's Parc des Princes and Unai Emery could hardly have dreamed for any bigger a performance from his team against Bayern Munich.
It's no doubt been a difficult week for France's capital club and capital attraction; the behind-the-scenes ructions between striking rivals Neymar and Edinson Cavani have commanded the column inches and the attention with all eyes heading into this contest on the body language between the duo following their recent penalty spat.
PSG first to score v Bordeaux 2/13
Tension was eased as early as the second minute as the world's most expensive player embarked on a dribble as only he can. He took out Thiago Alcantara, Corentin Tolisso and Javi Martinez before feeding his great friend and ally Dani Alves for the opening goal.
Bayern were reeling. Any lingering hints of disharmony in the Parisian ranks dissipated in that instant.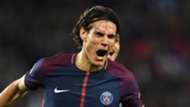 On matchday one we saw a PSG content to get on the ball against Celtic and dominate. They blitzed the Scottish champions from start to finish through their control of possession and their seemingly unending conjuring of chances.
Here was something different; a game plan that hinted at adaptability in Emery's armoury but one which wasted nothing of the talents of his star-laden front three.
After going one-up, PSG ceded both ball and territory to Bayern, playing the odds that they could hold out against Carlo Ancelotti's side even if goalkeeper Alphonse Areola had to be alert on occasion.
The problem for Bayern was that every time a move broke down they had to cope with what must be the most fearsome counter-attack in world football.
Neymar can dribble you, Cavani's approach play is second to none and that is to say nothing of the threat presented by the boy wonder Kylian Mbappe.
The second goal was created by the on-loan Monaco forward. Played in behind by Alves, he then had the presence of mind to pick out the run of Cavani at the edge of the box.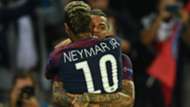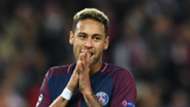 The Uruguayan's finish was stunning and the sense of relief palpable. After the celebration quietened down he was greeted with the friendly embrace of Neymar. That will come as a relief to the boss Nasser Al-Khelaifi as well as the hordes of PSG fans inside the ground, which included on the night two ex-French Prime Ministers in Francois Hollande and Nicolas Sarkozy as well as supermodel Naomi Campbell.
Another flick from Neymar into the path of Cavani was sublime and hinted at the comfort – on a football level at least – between the two. There are clearly issues of seniority to be squared out but the intuition among the frontline is already on the money.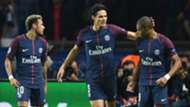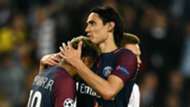 With the focus very much on those two it gave space for Mbappe to work his magic. The tricking of David Alaba in the creation of the third goal showed a maturity beyond his tender years. Neymar could hardly have missed after Martinez fluffed his lines.
For Bayern, a chastening experience. They played right into the hands of PSG here, allowing themselves to be raided on the counter time and again, and providing no great punch in their own drives forward.
Ancelotti will at least now have a better idea of how well his side is set for a Champions League challenge. There have been alarming losses in form already this season – in the Bundesliga defeat to Hoffenheim and the weekend draw against Wolfsburg – but this was no freak result. Bayern deserved nothing.
The last thing PSG would have wanted was a bad result to go along with their home-spun controversies. What they got was a display of unity, of peace, love and harmony.