Premier League
Ozil shelves Arsenal contract talks until summer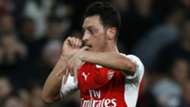 Mesut Ozil says he will not discuss his future with the club until the summer, amid managerial uncertainty at the Emirates Stadium.
Mkhitaryan proving more important than Zlatan
Ozil's contract expires next year, and a number of clubs, including Manchester United, have been linked with a potential summer move for the Germany international.
The Gunners are enduring perhaps their worst ever season under manager Arsene Wenger, and currently sit sixth in the Premier League, seven points behind fourth-placed Manchester City.
And Ozil maintains that he would rather focus on arresting the club's current slump than his own future as the season progresses.
"At the moment what is important is Arsenal, not me or any other players," Ozil told Sky Sports.
"The team are having a more difficult spell and at this stage I am not important, no other player is important - what is important is the club.
"We will talk in the summer and clear things then. At the moment it would be wrong to think about that."
Arsenal were beaten 3-0 by Crystal Palace last time out, intensifying the pressure on Wenger.
The club's fanbase have launched a number of protests against his management this season, but Ozil insists that he deserves respect.
'Lukaku won't sign new Everton deal'
"I always said he was the most important factor in me coming here," he said.
"He has been here for 20 years and has given a lot to this club and I think he deserves respect for what he has achieved here."