Juan Osorio
Osorio: USA will be 'a very difficult team to beat in Azteca'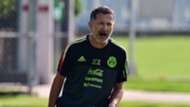 NEW YORK — The U.S. national team has never won a World Cup qualifier in Mexico City, and has only earned points on two occasions — most recently in 2013 — but El Tri coach Juan Carlos Osorio is still wary of the challenge the Americans will present when they square off at Estadio Azteca on June 11.
Osorio led Mexico to its first World Cup qualifying win in Columbus, Ohio, after El Tri's previous four failed attempts, but that was against Jurgen Klinsmann. In June, the Mexico manager will square off against Bruce Arena, who has helped the U.S. revive its World Cup qualifying campaign after an 0-2 start that led to Klinsmann's dismissal.
Osorio backs Chicharito despite form 
"I think that MLS, in the infrastructure of the league, is the model to be followed by any other league in the world," Osorio said. "The venues are incredible. I think the level of play has improved, and if there is somebody familiar with all that it's Bruce Arena. I think Mr. Arena brings to the table a very competitive team. He knows how to get the best out of the American players and it will be a very difficult team to beat in Azteca."
Osorio has El Tri sitting in first place in the CONCACAF hexagonal round of World Cup qualifying, with 10 points from four matches. The Americans are sitting in fourth place, on four points, but the change from Klinsmann to Arena has given the U.S. a boost. So has Christian Pulisic's rapid rise in the months since the last USA-Mexico match, an upward trajectory that comes as no surprise to Osorio, who admitted to Goal before the November qualifier that he believed Pulisic was already the U.S. team's biggest threat.
"He's a very talented player," Osorio said of Pulisic. "I would probably say he can do as many things as Giovani (Dos Santos), but with his right foot. In the final third, he's capable of passing, dribbling, going past people. He can identify when and how to play, and he's a player who is very influential and we have to be very aware of him."
Osorio and Mexico face a very challenging period around the June qualifiers. El Tri will play a pair of friendlies, one at the LA Coliseum against Croatia on May 27, and one at MetLife Stadium against Ireland on June 1 before the home qualifiers against Honduras (June 8) and the United States (June 11).
That stretch of four matches in 15 days, combined with the travel involved, will be a daunting task, but one El Tri will handle by breaking that schedule up and using a deep pool of players, and not just one set group.
Osorio: Mexico learned from Chile loss
"Right now we have two main concerns," Osorio said. "(First), the teams that are going to represent us playing on May 27 against Croatia, and then June 1 here against Ireland, because it will all depend on how far our players go in their respective leagues. Also, we want to give the players, especially those that come from Europe at least two or three days off, maybe four.
"Trying to combine all that, plus preparing ourselves in altitude to play in Mexico is quite difficult for us to accommodate all those factors. However, we think that we are going to have two very good groups that will give the chance to compete, with a great chance to win all the games that we have."
The USA will visit Mexico two days after facing a home match against Trinidad & Tobago at Dick's Sporting Goods Park in Commerce City, Colorado.