UEFA Champions League
No Neymar, no Suarez? Has Barcelona goal machine lost his bite?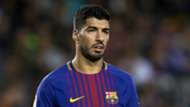 The MSN trident is no more at Barcelona. Lionel Messi has remained the main man for the Blaugrana following the departure of Neymar to Paris Saint-Germain in the summer. But Luis Suarez is somewhat out of sorts at the Catalan club right now.
Suarez has scored only twice for Barca this season in six appearances, the fifth goal in a 5-0 win at home to Espanyol and the third in a 3-0 victory at Girona on Saturday - both matches that were already won.
Fans have grown frustrated as chances have come and gone for the Uruguay striker - opportunities he would have buried earlier in his Camp Nou career. Even though there is plenty of optimism following seven straight wins for Barca in La Liga and the Champions League, the centre-forward's form is one concern for the Blaugrana at the moment.
An injury in the opening league game against Betis at Camp Nou did not help matters. Suarez returned sooner than expected from his knee problem to feature for Uruguay in their World Cup qualifier against Argentina earlier this month.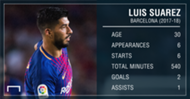 The striker was desperate to be back for that match and many believe he may have returned too soon after he worked extremely hard to declare himself fit for the meeting with the Albiceleste.
"It's possible that he worked excessively," the striker's first coach at Nacional in Uruguay, Martin Lasarte, told Goal. "He is physically very strong and when he is fully fit, he is like a bull. He is not quite at that level at the moment."
Messi and Suarez are both 30 and the Argentine has not had any physical problems this season. Clearly, he is currently ahead of his South American team-mate in terms of fitness. And in the meantime, he has also taken the striker's position in the centre of the Barcelona attack under Ernesto Valverde.
"Suarez is playing a little more on the wing," Lasarte said. "He hasn't scored with the same voracity. But it's a question of adaptation. For me he is a centre-forward, but the very best players adapt and that is what he has to do."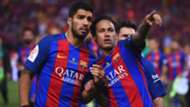 Messi, playing in the false nine role, has hit 12 goals this term already and nine in La Liga. The Argentine has been Barca's main source of goals and now looks set to continue in a central position.
However, the five-time Ballon d'Or winner creates chances for himself, whereas Suarez is a forward who relies on service from his team-mates and perhaps more than anyone else, he has been the hardest hit by Neymar's exit.
"The trident had extraordinary moments," Lasarte added. "They defined an era. Together, all of them benefited. It got more out of Neymar, more out of Messi and more out of Suarez. But Neymar linked up a lot with Suarez and he perhaps misses that."
With Neymar gone, Ousmane Dembele came in from Borussia Dortmund and the France forward set up Suarez for the Uruguayan's goal against Espanyol. However, the 20-year-old is now sidelined for the rest of 2017 in what is another blow for the former Liverpool striker.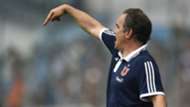 The peak for Suarez at Barca was his second season. In 2015-16, he hit an astonishing 59 goals for the Catalan club, before scoring 37 last time around.
"The team had more difficulties last season," Lasarte said. "It was known halfway through the season that Luis Enrique was leaving and there was something of a decline. But 37 goals is still spectacular and that is what he should be aiming for now.
"Suarez is very strong and he takes care of himself. Once he gets back to his level, he will be extraordinary again."
Barcelona fans will hope that happens sooner rather than later...