A-League
Miller: A-League return only on my terms
Goal Australia Chief Editor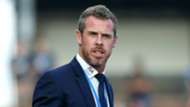 Ex-Newcastle Jets coach Scott Miller will only return to the A-League on his terms and has indicated his new employers AaB are preparing to raid the Australian competition at the end of the season.
Miller was sacked by the Jets less than a month before the 2016-17 A-League campaign - the first major decision of Newcastle's owners the Ledman Group - after a well-publicised falling out between the 35-year-old and his assistant coach Luc Trani, who was also subsequently dismissed.
Newcastle Jets sack Scott Miller
Trani had only been appointed Miller's assistant in June but within three months the pair's relationship had become untenable, with their spat coming to a head on a pre-season tour of China and Hong Kong.
In his one season in charge of the Jets, Miller took a side that had finished last in 2014-15 with three wins and 17 points to eighth in 2015-16 with eight wins and 30 points.
Under the tutelage of Mark Jones this season, Newcastle have won five games and accumulated 22 points to sit eighth in the A-League table with five rounds remaining before the finals.
Trani joins Miller on Jets' scrapheap
Miller was quoted by The World Game earlier this month saying that "there's been a bit of interest" in his services from A-League clubs since he left Newcastle.
Speaking to Goal this week, the former Fulham assistant coach indicated he would need to trust that he was in charge of the football department if he was to join an A-League club again.
"Yeah, definitely, [I would like to coach in the A-League again]. At the right time, of course, and on my terms," Miller said.
"Not financially but on my terms structurally - I think that's key.
Jets could link with Chilean club
"If you're going to be measured as a coach, you need some form of strategy and structure and certainly the people you work with have to be of the same mentality to your level of discipline and expectation, and if they're not, it's never going to work."
Miller joined Danish Superliga club AaB at the end of November as an assistant coach, while he is also responsible for their performance department.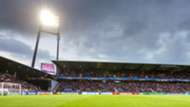 AaB's Nordjyske Arena, Aalborg, Denmark
His contract runs until June 2018.
"Leaving the Jets was obviously very disappointing and my next role had to be something I could really believe in and trust the people I was involved in, and I've certainly found that here," he said.
Jones challenges Kokko to go on scoring run
During his time at the Jets, Miller signed three players from Nordic leagues in Morten Nordstrand, Wayne Brown and Aleksandr Kokko, and thanks to him more Australians could be heading the other way.
Denmark's top tier is already home to four Australians - Mustafa Amini and Chris Ikonomidis (both AGF), plus Awer Mabil and Brent McGrath (both Esbjerg).
Jets winger Andrew Hoole, who was signed by Miller before the 2016-17 campaign, has been linked with a move to Denmark - amongst other European countries - since Newcastle withdrew their offer of a new contract due to an inability to agree to a minimum transfer fee figure.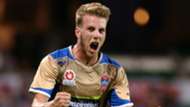 Andrew Hoole, Newcastle Jets
When asked about the possibility of AaB signing Hoole, Miller said: "When I joined the club, I put a number of players on their scouting list and a number of players in the A-League are actually being reviewed at this point now.
"At his stage, at this club, we're very populated in the midfield area, so whether or not they go for that… essentially I provide the information but I don't make the decision.
"That's the sporting director's position but there's certainly been a massive interest in approaching Australian players in the short term because they see the value in it economically but also physically and mentally, they can deal with the demands of the Superliga.
"There's certainly interest in that demographic of player."
Hoole has been a key player for Newcastle in 2016-17 with five goals and two assists to his name, while he leads the Jets for chances created and crosses.