Mexico
Mexico to face Iceland in first March friendly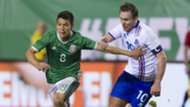 Mexico will begin its World Cup preparations against Iceland, facing off against the European nation on March 23 in a friendly at Levi's Stadium in Santa Clara, Calif.
The location of the match was previously announced, but the official announcement about the opponent was not made until Thursday.
While El Tri will play a Jan. 31 friendly against Bosnia-Herzegovina, the contest with Iceland is the first match of the year that falls within a FIFA window. That allows Mexico manager Juan Carlos Osorio to call in his entire squad rather than only domestic-based players.
While Iceland may not be the marquee matchup fans in the Bay Area were hoping for, Osorio believes the game will be good for preparation with the European nation's style similar to that of World Cup group stage rival Sweden.
"They play in a way that favors direct football," he said. "In their central midfield, they have one of the best holding midfielders and we'll be playing against one of the teams that played a better type of football as far as not elaborating too much but playing direct. So I think it will be very important for us to see how we cope with that kind of football."
Osorio also praised Iceland for how it has grown as a footballing nation. Iceland is preparing for its first appearance at the World Cup after bursting onto the international scene with a run to the quarterfinals at Euro 2016.
"I think Iceland is a country that's an example, a country with fewer than 500,000 people and to get in the last rounds of the last Euro and now qualifying for the World Cup, it's an example of something extraordinary that's happening," Osorio said.
"It's happening because they're doing the work of preparing their coaches. I think they have more than 500 UEFA A-Level and B-Level licensed coaches. So they're talented, very well structured. They've modified their training ground to be able to train even with the bad climate that hits them more often. I think they've known how to combine the factors that really can take a nation to the competitive level they belong to now."
The match will be the first for Mexico in Levi's Stadium since a humiliating 7-0 defeat to Chile in the 2016 Copa America Centenario, but Osorio said he expects fans to be supportive as they are in the majority of cities across the United States.
After the match against Iceland, Mexico will head to Arlington, Texas for a March 27 game in AT&T Stadium. The opponent for that contest is yet to be made official, but Croatia has announced it will take part in the match.