Barcelona
'Messi wouldn't be as good without Iniesta, Neymar and Co'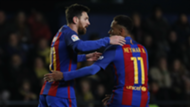 Barcelona director Pere Gratacos has insisted that Lionel Messi would not be the same player without the help of his team-mates.
The head of Barca Sports City - the club's training complex and youth facilities - thinks that the club is much more than one player, and has credited Neymar, Luis Suarez, Andres Iniesta, Gerard Pique and others for Messi's success.
Barca & Madrid discover Copa fates
Messi has played with the Spanish club since 2001 when he joined their youth academy, lifting four Champions League and eight La Liga titles during his senior career.
Despite these achievements and his five Ballon d'Or awards, Gratacos believes that Messi's success is down to more than just his own ability.
"Barcelona is not here only because of Messi," Gratacos said. 
"He's very important but it was the team who won. Without Neymar, Suarez, Iniesta, Pique and the others, he wouldn't be as good a player."
Gratacos also analysed Barca's Copa del Rey quarter-final draw, which pits them against Real Sociedad. Despite avoiding Real Madrid in the last eight, Gratacos feels that the two legged tie will be a challenging one for Luis Enrique's side.
"It is difficult," the former defender admitted.
"Real Sociedad is a rival that causes of lots of problems. If we look at statistics in the last five years we have only beaten them twice, with the other three draws.
"In Anoeta it will be very difficult, but playing the second game at home is positive news for us."