Ligue 1
Mbappe meets... Mbappe! Ligue 1 goes social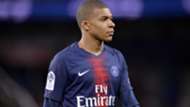 The Ligue 1 season drew to a dramatic close on Saturday, with Monaco and Lyon winning places in the Champions League alongside PSG for next season, while Rennes and Bordeaux joined Marseille in the Europa League. Meanwhile, Troyes were relegated and Toulouse consigned to a playoff for survival.
While the domestic season is not, therefore, entirely done and dusted, the vast majority of stars in Ligue 1 are either looking forward to the World Cup or some well-deserved time on the beach.
But it was certainly not been all play in the last week, thoug Kylian Mbappe had a rather relaxing evening at Paris' famous Musee Grevin, which displays waxworks of French and international celebrities.
Mbappe was visiting as he was the latest figure to be unveiled.
"Kylian and Kylian," he commented on his Instagram page.
A post shared by Kylian Mbappé (@k.mbappe29) on May 18, 2018 at 5:29am PDT
"It's an honour to be the youngest celebrity to go into the museum," he added.
PSG team-mates Neymar and Dani Alves have reflected on their respective injury fortunes over the course of the last week.
Former Barcelona defender Alves will miss the World Cup due to a knee surgery but remains upbeat, posting: "The power that comes from the natural is our real strength."
Meanwhile, Neymar has recovered from a foot injury in time to turn out for Brazil at World Cup 2018.
"Thanks to God. I'm very happy to have another chance to represent my nation," he said. "Time to go to Russia!"
Another man who has not been so lucky is Marseille's Dimitri Payet, who was injured in the first half of his club's Europa League final loss to Atletico Madrid last week.
He took to Instagram to express his disappointment at his fortunes, with the World Cup now off the agenda for the attacking midfielder, but also his pleasure at having risked himself for his club's cause.
"Hello everyone," he began. "First of all I wanted to thank you for your messages and for your support, it touches me enormously. When you are a professional player, the France team is above all it's true, but OM is in my heart and if it was necessary to do it again tomorrow, after tomorrow, in six months, in one year, I would do it without asking myself a single question.
"I repeat, I love this club and I am ready to make sacrifices for it if I can make it great again. I was fully aware of the risks I was taking and I fully assume the consequences.
"I am and I will be France's greatest supporter for this World Cup. I will recover and start preparing next season. You can count on me.
"Go France and go OM!"
If his season ended in disappointment, that was not the case in Lyon, where a hat-trick from Memphis Depay resulted in OL reaching the Champions League next season.
"Mission accomplished," posted Nabil Fekir, who created the Dutchman's first in a 3-2 come-from-behind victory over Nice.
The hero of the hour, though, was eager to celebrate in a more mischievous manner. Having shown his fingers-in-the-ears celebration three times on the field, he made club president Jean-Michel Aulas imitate it during an interview with the club's TV channel after the game.
Having scored 10 times in nine matches at the end of the season to finish as his club's leading scorer, Memphis is poised to light up Ligue 1 and Europe next term.