Manchester United
Man Utd forward Rashford delights in earning Mourinho's trust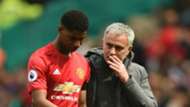 Marcus Rashford considers it a "massive" thing to have earned the "trust and respect" of Manchester United manager Jose Mourinho.
The teenage frontman has not always been a starter this season, but he has figured prominently in the Red Devils' plans.
He has often been called upon for the big occasion, with his performance from the start in a 2-0 victory over Chelsea earning him plenty of plaudits.
Pogba out but Mou won't risk kids
Mourinho is among those to have led the acclaim for a player of considerable promise, with Rashford delighted to see his efforts being acknowledged.
He told Premier League Productions : "It's a massive thing when a manager like him says that.
"The best thing about it is that you've earned it. He didn't just come in and say 'there you go – play every game'. He's made us all work for his trust and respect.
"Sometimes it's difficult and sometimes it's easier but the players are all battling and improving to work for him. It's massive for us and you can see how everyone's come on this year."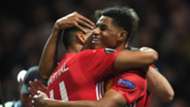 United have faced plenty of challenges this season, with a crippling injury list an unfortunate consequence of a gruelling schedule.
Mourinho's men have, however, remained competitive on multiple fronts, with Community Shield and EFL Cup successes toasted.
A top-four finish is now beyond them in the Premier League, but the club are determined to end their domestic campaign on high before taking on Ajax in the Europa League final.
Could James be Man Utd's Galactico?
Rashford added: "We've got to keep fighting till the end.
"As individuals, the way we're made at this club is we want to win every game, no matter what game it is and what circumstances we're in. It's going to be the same approach until the end of the season."
Rashford has taken in 56 appearances for club and country this season, netting 11 goals.