Manchester United
'Man Utd don't have wingers they need to succeed!'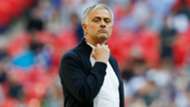 Former Manchester United star Andrei Kanchelskis sympathises with the club's fall from grace since Sir Alex Ferguson's departure, but does not believe the club have the required wingers to succeed.
Kanchelskis made a name for himself as a flying winger at Old Trafford, winning two Premier League titles at United under Ferguson's management and playing with the likes of Eric Cantona, Ryan Giggs and Bryan Robson.
United have not won the league title since Ferguson's departure, and finished second in 2017-18, with a yawning gap of 19 points to eventual champions Manchester City.
And Kanchelskis believes that Ferguson's influence continues to cast a long shadow over the club, while bemoaning the quality of players in his old position.
"I think after Ferguson's departure, it's hard for any coach to work there," he told Goal. "After so many victories, the fans got used to seeing their team only in the first place. And then, I think it lacks good wingers, as there could be many in the 90s.
"Those who raise the level of a team. At that time, the use of wingers was very important, now a little less. In European football, there are few clubs that attach importance to the flanks.
"Maybe Bayern, but otherwise I don't see others. Through the flanks, there is everything that happens, the fast attacks and the centre-forwards that follow. There are not many good wingers in the world."
Many critics of Mourinho's United tend to focus on the lavish sums spent on players, notably the £89 million ($118m) investment in Paul Pogba.
Kanchelskis agrees that fees are getting out of control, but believes that the biggest clubs have no choice but to pay the going rate.

"Under Ferguson, there was no such investment," he added. "He was thrifty. But, in football, we see that every year, there is more and more money flowing.
"Everything is evolving. Of course it's a little too much. To my taste, it is. But you cannot escape this: if you want good football players, then pay the price. If you don't want them, don't pay. It's that simple."