Arsenal
Leno: Arsenal can dominate big games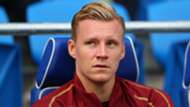 Arsenal goalkeeper Bernd Leno believes the team's strong showing in their 1-1 draw against Liverpool is evidence that they can dominate in big games.
The Gunners had the lion's share of possession at the Emirates Stadium, recording 62 per cent, but were pegged back by a second-half James Milner strike before Alexandre Lacazette levelled late on.
And their German custodian is encouraged by the team's performance against a Reds side unbeaten in the league and tipped to be Manchester City's closest rivals for the Premier League title.
Speaking to ESPN, Leno said of the display: "[It is evidence] that we can take on the big ones. That we can dominate the big ones.
"I believe we were the better side today and that's how we must continue. We have difficult matches ahead of us. Wolves next week, probably a whole different match. But you could see that they recognise what we play. Liverpool had a lot of respect. They didn't dare to go all in on the pressing. I believe this, in any case, must give us courage."
Leno has received criticism for his part in Liverpool's opener - palming a dangerous cross into the feet of Milner - which he believes to be unfair.
"It's a bit unfortunate. You stay away, the guy at the back scores, maybe nobody will blame you. If you go into it and the one in the middle scores, all say parry in another way.
"It's not that easy in this situation because I completely tried to get there. You can't really say where it'll go, and then the ball falls flat on Milner's feet. And that's the goal."
The summer signing from Bayer Leverkusen also praised the character the squad showed to come back from behind, as well as the support from the fans. 
"It shows a bit the squad's character right now, also of the fans. I don't know how things were in the past. But at the beginning of the season, you had the feeling the fans become very uneasy, but the fans immediately pushed us forward.
"Every player feels that, and there was this feeling after the 1-0 we could still win the match. We scored 10 minutes from time. Every player wanted to win it. It didn't work, sadly. But the atmosphere and the character of the team right now is very good."