Germany
Klinsmann: Under-pressure Low must reach Euro semi-finals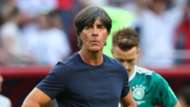 Former Germany manager Jurgen Klinsmann insists that Joachim Low must reach the semi-finals of Euro 2020 or else be out of a job.
Klinsmann took over Germany after Euro 2004 and reached the last four of the 2006 World Cup on home soil, but saw his assistant promoted into the top job after that tournament.
Low has managed Die Mannschaft for the 12 years since, helping them win the World Cup in 2014, but a disappointing tournament in Russia this summer saw his future as Germany boss come under scrutiny.
The German football association decided to keep faith in Low despite their worst World Cup performance since 1938, but Klinsmann believes that the pressure is now on Low to perform.
"At miminum, [he needs to] reach the semifinals at the European Championships," Klinsmann told Sport Bild.
"I think that hunger is still there with him, who does not want this on their CV: European Champion!"
After the World Cup, there were claims of a divide in the Germany camp with the older players from the 2014 World Cup triumph not gelling with the younger ones who had lifted the 2017 Confederations Cup.
Klinsmann, who played 108 times for the country, does not believe that Germany's golden generation is finished, insisting that the players must step up and take responsibility.
"The generation that won the World Cup in Brazil in 2014 and the young team that won the Confed Cup in 2017 owe answers," he continued. "The potential is there, but they need to show backbone."
The 54-year-old also criticised the Bundesliga for failing to bring big name stars to Germany, leaving them trailing behind Ligue 1 and Serie A who re-invigorated their leagues with the signings of Neymar and Cristiano Ronaldo, respectively.
"Sooner or later, the other leagues will be shooting past us," Klinsmann insisted. "The Bundesliga needs the superstars to bring quality not only athletically, but also to attract external investors."