Mexico
Jimenez, Peralta rescue overconfident Mexico coach Osorio in narrow win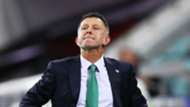 Before each match, Mexico coach Juan Carlos Osorio says some variation of the phrase "We respect the opponent."
He didn't respect Wednesday's enough.
Osorio made eight changes from Mexico's 2-2 draw against Portugal in their Confederations Cup opener and looked on as his side was outplayed by New Zealand in the first half before eventually walking away with a narrow 2-1 victory. After taking a one-goal deficit into the halftime break, Osorio brought on Hector Herrera. Mexico was able to move the ball, keep more possession and eventually get goals from Raul Jimenez and Oribe Peralta that saved it from an embarrassing loss.
Report: Peralta completes Mexico comeback 
In many ways, El Tri were lucky to only be down one goal after the first half. Leeds United forward Chris Wood scored the goal but had several other chances to put the ball past goalkeeper Alfredo Talavera that he wasted.
Osorio was overconfident against a New Zealand side whose own manager, Anthony Hudson, had devised a game plan that, rather than involving sitting back and hoping to hit Mexico on the counterattack, saw the All Whites surge forward and pressure the North Americans. That spelled disaster for players like defender Oswaldo Alanis, who was below-par for the second consecutive game in a Mexico shirt. Diego Reyes, who eventually turned in a quality second half playing both as a central defender then moving onto the right, yet again struggled as the lone man ahead of a three-man back line. While the lineup was designed to be attacking by nature, Jurgen Damm, Jimenez, Peralta and Giovani dos Santos hardly put their feet to the ball in the opening 45 minute. 
"It was a big blow for the team to be losing in the first half. The team wanted to be winning from the start," winger Javier Aquino said after the match. "But we know that in this tournament, every team is tough.
"They good a good job in the first half. That's why they were winning 1-0 but we stayed positive, strong and united to move forward in the match and score the two goals."
Osorio is going to make rotations, especially in tournaments. That much is clear. That's who he is, that's what he does, those are the ideas he has. And that's fine. It's worked out all right for him during the majority of his tenure with Mexico - the obvious exception being a 7-0 loss to Chile that El Tri have bounced back from. But having three central midfielders who are in good form and all looked good against Portugal and then electing to put none of them on was a puzzling decision and a miscalculation from the Colombian tactician.
Once he put one of those players, Herrera, on and had Reyes slide back into a role he's more comfortable with, things went much better for Mexico. There still were some nervous moments in the second half, including New Zealand hitting the post late after Peralta had put Mexico in front for the first time, but overall Mexico was in control.
"We're all working in the systems the coach wants," Peralta told reporters after the match. "Today we lacked communication to move the ball more quickly and create more chances."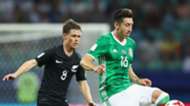 What's clear is that Osorio had his hand forced by the mistakes he made in picking his squad. Two of his changes, bringing on Hector Moreno for injured the Carlos Salcedo and taking off the injured Moreno for Rafa Marquez, were forced by injury and the game had been crying out for Herrera to come on for Alanis. After that he could make modifications only in how his team was playing.
Salcedo leaves match with shoulder injury
Luckily for him, Aquino rose to the occasion.
The Tigres winger was involved in both goals Wednesday, moving the ball to Marco Fabian who passed to Jimenez on the opener and then getting to the end line and cutting back for Peralta's winner. The rest of Mexico's players who made their tournament debut against the All Whites struggled to find the pace necessary at the international level.
The manager will again make rotations ahead of the final group match against Russia, a more difficult opponent and a game that will decide if Mexico makes it into the semifinals of this tournament. The rotations must be wiser and less drastic. While Mexico does have depth, Osorio can't underestimate the team his side is going to face. It will be an entirely different look for El Tri, and it will need to be if the team has any hope of returning to Mexico with their heads held high.