MLS
Howard Webb to oversee Video Assistant Referees in MLS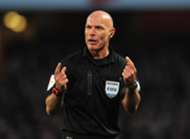 Retired referee Howard Webb has been hired to oversee development, assessment, and assignment of Video Assistant Referees in Major League Soccer, the Professional Referee Organization (PRO) announced on Tuesday.
U.S. Soccer president explains how Trump could impact World Cup bid
A highly respected former official who has been in charge of Premier League and Champions League matches, as well as the 2010 World Cup final, Webb will join PRO in March as MLS works to implement VARs league-wide later this year. The 45-year-old will work alongside PRO general manager Peter Walton.
"Howard Webb will be a great asset to PRO in spearheading the VAR project," Walton said in a statement. "His high-level officiating experience and work as a broadcaster will bring tremendous value as he guides our referees through various VAR testing and assessment exercises ahead of forthcoming VAR implementation."
As manager of Video Assistant Referee operations. Webb will oversee in-stadium testing throughout MLS during regular season matches from March until August. The testing phase will have no impact on games.
The league will then look to fully implement VARs into MLS matches following the All-Star Game in August.
"I'm delighted to join the Professional Referee Organization for this new challenge and contribute to the implementation of what I view as a crucial development for the sport," Webb said. "I have tremendous respect for the Organization that Peter Walton has created and am excited to be on board for the continued development of this initiative."