Chelsea
How Sarri is convincing Hazard, Kante to sign Chelsea renewals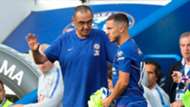 Chelsea believe Maurizio Sarri's management style, relaxed approach and valuation of the club could prove to be instrumental in their attempts to convince Eden Hazard and N'Golo Kante to sign a contract renewal.
Hazard's existing deal is due to run out in 2020 and he was heavily linked with a move to Real Madrid following Cristiano Ronaldo's departure to Juventus back in July.
"You all know my preferred destination" said Hazard in Russia, upon being asked about his future at the height of his form with Belgium. Chelsea refused to enter negotiations over a transfer, though, and the Belgium international in the end stressed he is happy with life at Stamford Bridge.
"You know what I said after the World Cup. I'm happy here," the 27-year-old Hazard stated in August. "Many things have been said - nonsense and everything.
"For now, I'm happy. I still have two years of contract [left] and we'll see what happens. I will not leave [this year]."
Kante, meanwhile, recently admitted there was contact with Paris Saint-Germain after the World Cup, but stressed a transfer was never really an option.
"There were some contacts [from PSG]. But after a discussion with Chelsea I realised that the main thing was to feel good where I was. I am at Chelsea. It's good for me to stay at Chelsea," the France international - whose deal runs until 2021 - stated.
Hazard and Kante have so far been reluctant to commit their long-term future to Chelsea following an underwhelming 2017-18 campaign under Antonio Conte, but the club's willingness to make them their best-paid players ever at £300,000 per week and the presence of Sarri could see that stance change.
The former Napoli boss has gotten rid of some of the strict rules from the Conte era - most importantly the dietary restrictions - to loosen up the atmosphere at Stamford Bridge and his attacking style of play has been a welcome change to his compatriot's often negative approach.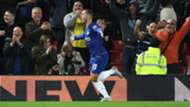 Hazard in particular has flourished this term and he acknowledged back in September that he's found back his joy under Sarri.
"I like to have the ball," he told Chelsea TV. "Not in my own half, but in the last 30 metres.
"I like this type of game, it's completely different from Antonio Conte or [Jose] Mourinho before. Like I say, we have more of the ball so for me it's not bad."
It's not just the relaxed atmosphere and attacking style of play that Sarri is bringing to the table in Chelsea's attempts to win over Hazard and Kante, though, as the 59-year-old has been adamant to the duo that Chelsea are as good as any club that's been showing an interest in signing them.
"Chelsea are one of the most important clubs in Europe," Sarri stressed in August, before repeatedly making his point again in the following weeks. 
"I am the coach of a very good team. I am the coach of a very great club."
Additionally, Sarri has been making it clear Chelsea value the duo more than any other club will.
Hazard and Kante are Chelsea's two undisputed star men and it seems unlikely they will enjoy a similar status at either Madrid or PSG, clubs that each have numerous high-profile names on the books already.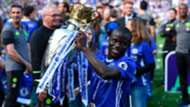 At the end of the day, however, Chelsea will need to show on the pitch that they are indeed at the same level as Hazard and Kante's potential suitors.
Closing the 30-point gap with Manchester City from last season and returning to the Champions League again after their Europa League cameo in 2018-19 will be vital to Chelsea's hopes of tying down Hazard and Kante.
They have impressed in the opening stages of this campaign as they are competing with the likes of Liverpool and City for top spot in the Premier League, while also starting the Europa League and EFL Cup on a high.
Their encouraging start will have boosted hopes that Hazard and Kante could renew before the end of the season, thus ending talk of a move to Madrid or PSG once and for all.
And even though club director Marina Granovskaia will have done the actual negotiating, there is no denying Sarri will have been key to any deal.