Premier League
Guardiola: Barca or Bayern would've sacked me by now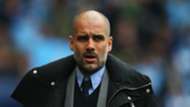 Pep Guardiola says he would have been sacked by Barcelona or Bayern Munich if he had delivered the kind of season he has had at Manchester City.
The Catalan has endured the first trophyless campaign of his managerial campaign and is focused on securing a third-placed finish by winning the club's two remaining fixtures.
Guardiola hails outgoing Zabaleta
City will give the 46-year-old time to implement his methods at the club and will back him in the transfer market this summer.
But he says that is a "second chance" and that he would not have been so lucky at "a big club".
"I came here to try to win this year, but it was not possible," he told reporters. "I will try with the club, with the players, with the staff, with the chairman, with the sporting director, to do it. And after that and the results are not [good], if we are judged just for the results, we will be sacked and another one is coming here, and you will be here again with the new manager, and you will make the same questions, so that is what it is.
"I am not staying here because I am Pep or what I have done a long time ago, I know what the problem is. I am not going to be [wondering] all summer 'Oh what will happen next season if I don't win some titles'.
"Pressure is what I had when I arrived in Barcelona, when I had nothing to defend [myself with]. At that club if in six months you don't win you are really out, like Barcelona or Bayern Munich, there you have to win by far.
"If not, they don't give you a second chance. Here they gave me a second chance and we will try to do it. In my situation at a big club: I'm sacked. I'm out. Sure. Definitely. At the clubs I worked at before I am not here, but here we have a second chance and we will try to do it better than this season."
Guardiola praises James Rodriguez and Donnarumma
Guardiola has often discussed the expectation levels at the Etihad Stadium and has stressed on several occasions that his current employers do not have the same mentality as Europe's traditionally successful clubs.
He has also insisted that it is his goal to raise those expectations, whether among the fans, players or the club hierarchy.
And he has suggested that the expectations of his first season at City were based on his success at clubs with a different standing in the European game, a hint that he always believed he would not be able to live up to the hype just yet.
"I said many times I have this expectation because of what I have done in the past," he said. "I arrived at this club and I tried to do my best, some managers will have that pressure so I have to handle that, if not I go home."