Gaming
Fantasy Football Scout: Guide to winning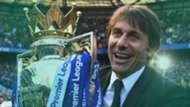 We've made the game easier and faster to play so you can set up your team in just a few minutes, and you can set up a league and invite your friends to play in just a few clicks. 

Once you've downloaded the free app you must register your team to qualify for prizes.  
When you first open the app, you will be invited to Create a New Team. Select the Premier League competition from the list and an animated guide will give you an overview of the game, then it will take you to the Pick your Team screen.
We have adjusted the value of players so it's easier to manage your transfer budget. You will start with a transfer war chest of £75M to spend on 11 players. The only limitation is that you must pick players to make a valid formation (4-4-2, 4-3-3, 4-5-1 etc.). The app will notify you if you've selected an invalid formation.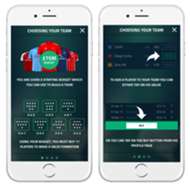 Antonio Conte made the 3-4-3 formation popular in the Premier League last season and many Fantasy Football Managers adopted this line-up for their own team. It's a good formation to start with as it allows you to play with the fewest defenders (who loose points if they concede goals) and more forwards. 
You can search for your favourite players by using the Position filters: GK, DEF, MID, FOR. 
After you select a position, the players will automatically be listed by the club they play for. You can change the order by tapping on the SORT button to order players Alphabetically, by Club, by Points, Value and Form.
Tap on a player's name to get their season stats for the competition, to pick them for your team you can just click on their value.
At the top of the screen in the info bar, you can track how much you've spent and how many players you've chosen. It will also tell you if you have selected enough players for each position to make up a valid formation.
You can check your team formation at any point by clicking on the pitch icon. 
Once your team is completed you need to pick a captain. That player will score double points for your team and you can change the captain every week. It's a good idea to pick the captain based on their current form, if they are playing home or away, and the team he is playing against that week. 

Making transfers is a vital part of the game, it can mean the difference between scoring a few points or lots of points!
Make sure to replace any injured or suspended players, or improve your team by bringing in the in-form players. Transfers must be actioned before the first match kicks in the gameweek gets underway. Visit Goal.com for player updates and check out our weekly Fantasy Football Scout articles for tips throughout the season.  
For every round of games your team will be allocated a fixed number of credits, you can view the schedule from the in-app Match Centre. Usually, you will receive 1 free transfer with the option of purchasing a maximum of 3 additional transfers (See App for details).