UEFA Europa League
Europa League trophy recovered after being stolen in Mexico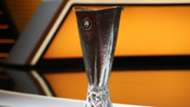 The Europa League trophy is back in safe hands after it was reportedly taken from a transport vehicle in the Mexican city of Leon. 
Authorities Guanajuato state, in central Mexico, claimed that the trophy has been taken after an event in the city while on tour, but was soon recovered. 
The authorities tweeted out an image of the trophy safely laid in cloth to prove that it was in friendly hands, but did not provide more detail of the incident. 
#PGJEInforma Que a través de elementos de la @AIC_Guanajuato es recuperada la copa @EuropaLeague tras recibir la denuncia que había sido robada del vehículo que la trasladaba posterior a un evento en @municipio_leon. pic.twitter.com/TF8sKjVRAe

— PGJE (@PGJEGUANAJUATO) April 20, 2018
The Europa League is currently in the semi-final stage of the competition, with Marseille set to face Red Bull Salzburg and Arsenal squaring off with Atletico Madrid. 
While the theft of a trophy is not a regular occurance, it's not new. 
The Jules Rimet trophy, now known as the FIFA World Cup Trophy, was famously stolen in March 1966 in London. 
That trophy was taken from a stamp exhibition in Westminster, and later found under a hedge in south London by a dog named Pickles. 
The Europa League trophy, should it return to Europe in one piece, will be handed to the competition winners in Lyon on May 16.