Landon Donovan
Dos a cero? Leon reveals Donovan's uniform number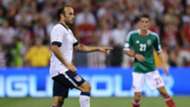 Having played a part in many a "dos a cero" match during the USA-Mexico rivalry, Landon Donovan can now remind Liga MX fans of that scoreline every time he steps on the field for Club Leon.
The American legend will wear No. 20 for Leon after announcing his return from retirement Friday, in a potential reference to the series of 2-0 victories the U.S. recorded against El Tri during his decade-plus playing for the national team.
The U.S. managed to win all four of its home World Cup qualifiers against Mexico from 2001 to 2013 by that 2-0 scoreline, with Donovan starting three of those matches. While the streak ended with a 2-1 loss to Mexico in 2016, Donovan seems to be keeping the legend of "dos a cero" alive.
Y mientras tanto en la @GuaridaDel_Leon...

¡El jersey de @landondonovan ya está a la venta! ⬇️ pic.twitter.com/ImJc684UIW

— Club León (@clubleonfc) January 13, 2018
Leon revealed Donovan's number Saturday, a day after confirming the 35-year-old's unlikely return from retirement. The all-time MLS leader in goals and assists, Donovan initially retired in 2014 and played just nine matches during a return to the LA Galaxy in 2016. But the six-time MLS Cup champion broke the surprising news in a tweet to Leon president Jesus Martinez on Friday.
"I loved the city, it's the best fans. Club Leon is a historic & winning team," Donovan tweeted. "I don't believe in walls. I want to go to Mexico, wear green & win trophies with Leon. We'll see each other very soon!"
It's worth noting Donovan's previous numbers are already taken on the Leon roster. His preferred No. 10 belongs to Mexico international Luis Montes, while the No. 26 he wore for the Galaxy in 2016 is taken by Andres Mosquera. Donovan also wore No. 21 early in his career, but Maximiliano Cerato has that number occupied.