Transfers
Dani Alves announces Juventus departure as Man City move nears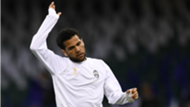 Dani Alves has bid farewell to Juventus as he looks set to join Manchester City.
A future without Messi & Ronaldo
The right-back has agreed a two-year deal with the Premier League side but they are yet to make an announcement.
But the 34-year-old confirmed his departure from the Serie A champions on Instagram, posting a picture of him waving to fans.
"I would like to thank all the Juventus fans for the year I've had, to my team-mates who welcomed me like the professionals they are, for a club that wins and reaches finals," he wrote.
"I think that my respect for this club and its supporters was my dedication, my passion and all my effort to make the club greater every single day.
"I apologise to the Juventus fans if sometimes they thought I had done something to offend them. I never had that intention, I just live very spontaneously and few people understand it... even though it appears that I am not perfect, my heart is pure.
"Today our professional relationship ends and I will carry with me all of those who with love and true heart make Juve a great club.
"As everyone knows, I always say what I think and feel… so I feel that I should say thank you to Mr Marotta for the opportunity he gave me, he's a great professional and someone who loves his job like few others.
Where Dembele fits into Pep's revolution
"I don't play football for money, I play football because I love the profession and those who are part of it. I leave it up to you to judge what I have done and worked for.
"I love football and money will never take me to any other place."
Alves spent one season at Juve, winning Serie A and reaching the Champions League final, where they were beaten by Real Madrid.
The former Barcelona star only enhanced expectations that he will join City after expressing his admiration for Pep Guardiola last week, calling him a "great coach".