A-League
Arnold can't wait to receive Premier's Plate
Goal Australia Chief Editor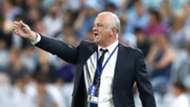 Sydney FC coach Graham Arnold can't wait to get his hands on the Premier's Plate and has claimed "it's disrespectful" to rate it below the championship.
The Sky Blues wrapped up the A-League premiership last month but will first be presented with the trophy on Saturday after their home game against Newcastle Jets.
It is the second time Arnold has won the trophy - he also lifted the Premier's Plate in 2011-12 with Central Coast Mariners - and the former Socceroos striker has long been an advocate of the more traditional title compared to Australia's penchant for a finals system.
Arnold labelled the Premier's Plate "the biggest" trophy in Australian football before adding that it's not possible to "split the two" but his description of what the premiership represents hinted at his preference.
"One [trophy] is for the most consistent and the best team - the team that is prepared properly over 27 weeks and the team that has performed the best over 27 weeks," Arnold told reporters.
Liverpool to play Sydney FC in post-season friendly
"The other one is a knockout competition of the six best teams. There's prestige on both trophies but I think it's disrespectful if people downgrade the premiership trophy."
The Sky Blues' boss rejected, however, the suggestion the A-League could jettison the finals as a way to decide the championship - "it's the Australian way" - but revealed that unusual system had caught a couple of his players unawares.
"Bobo and Jordy [Buijs] didn't understand the Australian way. They thought everything was around first-past-the-post is the champion but we explained we have to keep going," Arnold said.
A win against the Jets would see Sydney surpass the A-League's all-time points record of 65, which was set by Brisbane Roar in an 11-team competition in 2010-11.
But Arnold wasn't keen to discuss the record, instead focusing on how he would like the Sky Blues to improve on their 1-1 draw with Wellington Phoenix from last week.
"Our performance last week against Wellington was down and we've talked about that, we've looked at it and I expect this weekend we'll be back to our best," he said.