Super League
Annuar: FAM, FMLLP need M-League teams, not the other way around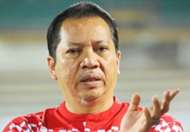 ---
BY         NIK AFIQ        Follow on Twitter
---
The consultant of Kelantan, Tan Sri Annuar Musa has slammed Football Malaysia Limited & Liability Partnership (FMLLP) over its threat to deduct points as punishment.
FMLLP and the Football Association of Malaysia (FAM) have stated earlier that teams who failed to settle their debts may face points deduction, but Annuar believed that such a punishment will add more burden to the teams, instead of solving any problems.
Annuar added that the cost of playing in the Malaysia Super League is much higher than the prize money offered.
Annuar wrote on his Facebook page on Thursday evening; "I hope in this new era of FMLLP, it would be wiser in managing the league. They must understand that the teams that join the league give life to FAM, but the teams themselves are in a lot of problem."
"Teams have to find sponsor money from government agencies, spending at least RM15 million to RM20 million in order to win a prize money amounting to less than RM2 million!"
"Points deduction is more of a threat and punishment, and it is not helping at all."
Annuar continued that it is better that teams refrain from joining the league, if FMLLP keeps punishing teams instead of solving the real problems.
"We have become a source to make life easier for FAM and FMLLP so it is better for us not to join the league at all if they keep punishing us instead of solving the issues and finding the real cause."
"Nobody wants to stay in debt or fail to pay the salaries. There is a big factor here which sooner or later other teams in the league will suffer as well if we don't solve it," added Annuar.
FMLLP earlier announced that five teams in the M-League, including two from the Super League, are set to have their league points docked after they failed to pay their players' salaries on time.