Transfers
Ancelotti pleased to be linked with Arsenal job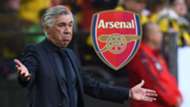 Former AC Milan and Chelsea manager Carlo Ancelotti has admitted he is happy to be linked with the coaching job at Arsenal.
The Gunners are on the lookout for a new manager following Arsene Wenger's decision to leave the club after 22 years at the helm .
Ancelotti is considered to be one of the frontrunners to replace the Frenchman, having Premier League experience from his time at Chelsea between 2009 and 2011 where he won the league, FA Cup and Community Shield.
The Italian is currently out of a job after he was let go by Bayern Munich in September following the German side's 3-0 defeat to PSG in the Champions League.
Ancelotti is a highly-decorated manager, having won the Champions League with both Milan and Real Madrid, as well as league titles in five different countries.
The 58-year-old praised Wenger for all he has done at Arsenal, but indicated he would not be adverse to replacing him at the Emirates Stadium.
"He decided to leave and it was a great gesture of solidity," Ancelotti said at the Match For Solidarity in Geneva. "He made history, and he has to be recognised for that. 
"The Gunners know their own future, if their plans involve me then I'm pleased from a professional point of view, but at the moment there's nothing else.
"My future depends on the chances and projects presented to me, it's not only up to me. Right now though I'm focused on helping Uefa with this wonderful event for those in need."
Former Arsenal goalkeeper David Seaman has backed Ancelotti to take the role, saying that the Gunners need someone with experience to take them forward.
Seaman believes that the club need an authorative figure to take charge, and sees the Italian as the perfect example of the coach required.
"Ideally for me, a very experienced manager with a lot of stature. Someone like Ancelotti," Seaman told ESPN FC .
"He's been at big clubs before, he knows what he wants from his team and he'll know what sort of players he wants as well.
"So for me, you need someone with that sort of stature to go into Arsenal and say: 'Right, I want X, Y, and Z, otherwise I'm not coming.'"