United States
Americans Abroad: Liga MX teen caught up in latest USA vs. Mexico battle?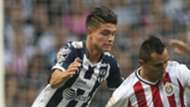 While most of the gushing for teenage Americans abroad is reserved for Borussia Dortmund's Christian Pulisic, with a few eyes batted at Schalke's Weston McKennie, there is another 18-year-old midfielder who is becoming a fixture in his team's lineup.
Only this teenager may not be a lock to be a senior U.S. international if Mexico has any say in the matter.
That teenager is Jonathan Gonzalez, who lines up in the central midfield for the team currently top of Liga MX, Monterrey. He has played in eight of the club's nine games, starting seven of them, as well as starting two Copa MX contests.
The California-born Gonzalez's performance at a young age may have caught the eyes Mexico boss Juan Carlos Osorio. The Record reports there are efforts to get Mexico to poach the U.S. youth international, who is eligible to play for El Tri.
Having represented the U.S. at a youth level, Gonzalez would need to fill out a one-time switch to represent Mexico. But if offered a call-up, would he jump at the opportunity?
Previously, Gonzalez had stated his desire to represent the U.S. at the senior level. In August he told American Soccer Now, "Until this moment, the United States has always guided and been there for me so I feel like I have the need to be with them.
"I'd say for now I'd have to stick with the U.S. for all they've done for me. My family is supportive in whatever decisions I make so it makes it much easier for me.
"International play for me is once in a lifetime opportunities, not everybody gets the chance to play international soccer so I'm very fortunate for everything I've been through and hopefully will be going through."
It's also worth noting Gonzalez could have joined Chivas Guadalajara before Monterrey but declined because of the club's policy of only allowing Mexico-eligible players suit up for them, which would have locked him out of playing for the U.S.
Still, will the U.S. leave that to chance? The stakes of the October games makes it hard to hand out courtesy call-ups, but given that Gonzalez is a regular starter for the team currently top in Liga MX, one can argue he already merits a national team look. And with the potential to lose the teen to the team's biggest rival, it will be interesting to see if that all adds up for an October call, and appearance to cap-tie, for Gonzalez.
---
YEDLIN MAKES SEASON DEBUT
---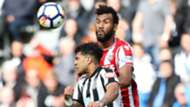 One of the trouble spots for the U.S. during September's international break was its back line.
All of the defenders had their issues at points over the two games, but the struggles of Graham Zusi against Honduras were particularly glaring. It wasn't a matter of effort — Zusi simply didn't have the pace to keep up with the opposition wingers — leaving many thinking wistfully of the speedy DeAndre Yedlin.
Those thoughts look much closer to becoming a reality for October's crucial qualifiers after this weekend.
Yedlin made his first appearance for Newcastle this season as he went the full 90 minutes in their 2-1 win over Stoke City. He had been sidelined with a hamstring injury sustained earlier in the summer.
And the fullback explained the situation with the injury after the win, detailing his precaution in not rushing back.
"Obviously I injured my hamstring early in preseason, came back for a little bit and injured it again," Yedlin told Newcastle's official website. "The thing with a hamstring injury, or any muscular injury in your leg, is that you have to be careful — especially the type of player I am.
"It's a big asset to me. Sometimes, it can be a little bit scary to go out and sprint and jump and do those athletic sorts of things, but I thought I was fine today.
"I think the medical staff have done a great job with me, so credit to them for getting me back fit and healthy. I'm looking to push forward from here."
While it's good to see Yedlin back, he has to work to maintain his place on a resurgent Newcastle side that sits a surprising fourth in the Premier League after five games played.
A healthy Yedlin who is starting every week for the Magpies would be a huge addition for the U.S. for its crucial qualifiers against Panama and Trinidad and Tobago in October, especially since the other spots on the back line are very much up in the air due to injuries.
---
KNEE INJURY SIDELINES WOOD
---
Speaking of injuries, Hamburg striker Bobby Wood missed out on their 2-0 loss on Friday to Hannover. The club said the knee injury was something he picked up while on duty for with the national team, which may have come as a surprise given his goal against Honduras and the fact he went 90 minutes in the first game after the break — a 2-0 loss to RB Leipzig.
However, regardless of where the injury was picked up, the big question facing the striker is how quickly he can recover and whether it's a problem that lingers, as happened to Wood toward the end of last season.
Hamburg has a busy slate this week — a Wednesday clash with Borussia Dortmund before a Sunday date with Bayer Leverkusen. If Wood can't get into either one of those contests, it would be a bad sign with the break coming in a few weeks.
With Jordan Morris sidelined with a hamstring injury, Wood being out as well would leave the national team short on proven striker options beyond Jozy Altidore and Clint Dempsey.
Given that fact, and his recent success, it's likely U.S. fans will be checking in on Wood's status frequently over the next 14 days.
---
WILLIAMS GETS FIRST PREMIER LEAGUE START
---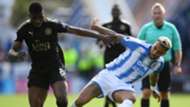 It's been a bit of exercise in patience and versatility for Danny Williams at Huddersfield. Joining David Wagner's side on a free transfer from Reading following their promotion to the Premier League, the midfielder has had to wait for a chance to break into the side.
Thus far, Williams was limited to two Premier League substitute appearances, with one coming at right back, though he did get a start in the league cup in August. However, Saturday afforded Williams the chance to get his first league start of the season and he went the full 90 in Huddersfield's 1-1 home draw with Leicester City.
Williams had a nervy moment early in the contest, getting caught in possession by Kelechi Iheanacho and needing his teammates to bail him out. But he rebounded after that and earned collective praise from Wagner, who hailed the three players who got their first Premier League start in the match.
"(The players) were very energetic, played intense, scored a great goal showed a great togetherness, especially with the three new players who made their starting debut today," Wagner told HtTV after the game. "All of them played well, especially these three players.
"So I'm very happy with the performance. The players showed that they are capable of."
Huddersfield has another league cup match and two Premier League contests before the international break, so if Williams can maintain his starting spot, he can make a case as to why he's deserving of a spot on the U.S. roster for the upcoming qualifiers.
Williams is at least on the radar as Bruce Arena said he "would look at him" when asked about him following the draw in Honduras. Being good enough to start and keep his place for a Premier League side would go a long way turning that look into an actual roster spot.
---
SCARY MOMENT FOR ALVARADO
---
Center back Ventura Alvarado suffered a scary moment Saturday as the defender had to be hospitalized after a concussion.
Alvarado was substituted off after the incident and taken to a hospital for observation. While the injury is serious, the defender later confirmed he was out of danger on Twitter, thanking fans for their support as well.
Muchas gracias a todos por sus mensajes. Ya me encuentro mejor y con muchas ganas de ayudar al equipo #SinGuerrerosNoHaySantos

— Ventura Alvarado (@Ventuzzz) September 18, 2017
"Thank you for all your messages," Alvarado wrote on Twitter. "I'm already better and really wanted to help the team."
U.S. fans probably have not thought of the 25-year-old Alvarado much in the last year and he has found playing time a struggle at Santos Laguna. However, he had gotten a bit more action as of late, starting three of the club's last five games. In total he's started six games — three in Liga MX and three in the Copa MX after playing just four times in total for Santos Laguna in last year's Clausura.
Given the heightened awareness to the dangers of concussions, it's possible Alvarado might be sidelined a while. Hopefully he can recover fully from this injury and keep up his recent push for a bigger role with the club.