Chelsea
Rudiger slams 'joke' yellow card after Bernard headbutt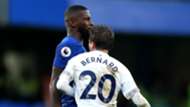 Chelsea defender Antonio Rudiger considers the yellow card he was shown after being headbutted by Everton midfielder Bernard to be "a joke".
The Germany international tangled with the Brazilian during a Premier League clash at Stamford Bridge.
Rudiger went down clutching his face after an incident involving Bernard, with the suggestion being that a man who is a full foot shorter than the Blues star had forced his head into that of an opponent.
There did not appear to be too much in the confrontation but Rudiger remains adamant that he was an innocent victim in a clash which should have delivered one dismissal, rather than two bookings.
He told reporters in the wake of a 0-0 draw in west London: "It's annoying because I don't even tackle someone, do something and I get booked for being head-butted. Sorry, but that's a joke.
"He [Bernard] was diving and I told him to stand up. Then he came with a lot of speed and hit me with his forehead, so for me to get a yellow card - to me that's a joke.
"The referee didn't see anything. Perhaps it's the fourth official who was outside [the pitch], maybe he said something to him [Kevin Friend] that I had provoked [Bernard] or something, but I just said, 'Stand up'.
"If there is VAR in England, then Bernard has a problem. He would be sent off."
With Everton allowed to keep 11 men on the field, Chelsea were unable to break the Toffees down and had to settle for a share of the spoils.
A stalemate has stretched their unbeaten run in the Premier League to 12 games, allowing Maurizio Sarri to re-write the history books, but Rudiger claims little satisfaction has been taken from the result.
He added: "I don't feel happy because I wanted to win this game.
"There was a game on last night [the Manchester derby] that's maybe important to us. But we failed to do our own job.
"If we don't win these kind of games, we don't need to look at City and Liverpool. Do we need to improve on getting three draws at home out of four? That's clear.
"We had a lot of chances we missed. But we were unlucky. We didn't see much from Everton up front. It was more a game to be decided by one goal. They had some counter-attacks, but I never thought they would score."