Transfers
West Ham prepared to fine want-away star Payet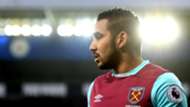 West Ham will fine Dimitri Payet £250,000 if he carries out his threat to remain on strike after informing the club of his desire to leave, Goal understands.
Slaven Bilic revealed on Thursday that Payet has told the club that he wishes to depart London Stadium, and Goal understands that the Hammers have since rejected a £20 million bid from Marseille for his services.
Payet has told West Ham that he does not wish to play for the club again, and sources have since confirmed that the club will impose the maximum possible sanction allowed by the Professional Football Association – a fine of two weeks' wages – if he carries out such a threat.
Payet has his heart set on a move to Marseille, whom he left in 2015 to join West Ham, and it remains to be seen if a second bid will be forthcoming.
The Frenchman will not be a part of the matchday squad for this weekend's game against Crystal Palace, but may well be asked to return to the fold for future fixtures.
If no sale is agreed it is conceivable that Payet could be fined up to £2m by the end of the season, if he were to continue to fail his contractual obligations to play for the club when selected.
West Ham reject £20m Payet bid
Meanwhile, the club's hierarchy are now understood to be contemplating the removal of both the giant Payet shirt outside the London Stadium and the sign featuring his famous song, for fear of vandalism this weekend.