Videos
VIDEO: Dani Alves goes in goal after PSG keeper sent off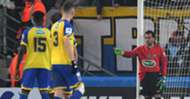 Many of Europe's top stars say they would play any position on the field, even in goal, to help their side, but very few get the chance to prove it.
Paris Saint-Germain star Dani Alves is a player known for giving his all for the side, and the Brazilian right-back showed he is more than willing to jump into difficult positions in Tuesday night's 4-1 Coupe de France win over Souchaux.
Angel Di Maria would have expected to have all the headlines to himself after completing his hat-trick shortly after the hour mark in the absence of the club's talisman Neymar.
However, Dani Alves made sure he took centre stage for a while when goalkeeper Kevin Trapp was sent off for a challenge on Thomas Robinet outside of the box in the late stages. 
As Unai Emery had already made his three substitutes in the game, they needed another player to step up and put on the goalkeeper's jersey and gloves.
So, up stepped the former Barcelona and Juventus star to take on the tough role for a few minutes.
Already holding a big advantage over the Ligue 2 side, the top-flight leaders were able to see out the win and progress to the next round.