MLS
Timbers re-sign Barmby, add three players from reserve team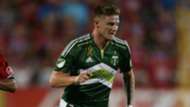 The Portland Timbers have re-signed winger Jack Barmby and added three players from the organization's USL reserve team, the club announced Thursday.
Barmby, 22, spent the 2016 MLS season on loan from Leicester City, recording one goal and one assist in 24 appearances (five starts) in all competitions.
Chargers to share StubHub Center with LA Galaxy
"Overall, we felt Jack had a positive first season with our club, especially considering his age and potential upside," Timbers coach Caleb Porter said. "We look forward to having him back and seeing even more progress and impact this season."
The Timbers also announced the signing of winger Victor Arboleda, defender Rennico Clarke and goalkeeper Kendall McIntosh from T2 of the USL.
Arboleda, 20, and McIntosh, 22, joined T2 for the 2016 season. Clarke, 21, has been with the program since the 2015 campaign.