Bundesliga
Stuttgart release World Cup winner Grosskreutz days after he's attacked on night out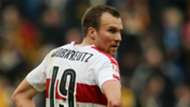 Stuttgart have confirmed that they have mutually agreed to terminate Kevin Grosskreutz's contract just days after he was attacked while on a night out.
The former Germany international, who won the World Cup with his country in 2014, was taken to hospital after an altercation earlier in the week.
Grosskreutz hospitalised after attack on night out
Grosskreutz himself has insisted he wants to take a break away from football and has urged fans and the media to leave him, and his family alone.
He said: "I want to calm down now and don't want to have to do anything with professional football for the moment. Please leave me and my family alone.
"I've made a mistake, I'm very sorry. I accept the consequences and regret my time at VfB so far. I would like to thank the team, the staff and especially the fans, who have supported me well in the past days."
Stuttgart's head coach Hannes Wolf, meanwhile, has supported the decision to release Grosskreutz, insisting the club had no choice.
He told the club's official website: "After the incidents, the only logical step is the ending of the collaboration with Kevin.
"This is not a simple situation for us all. Nevertheless, it is important now that we shape the immediate future for VfB and concentrate as quickly as possible on the difficult game in Braunschweig."
The 28-year-old, who joined the club from Galatasaray in January 2016, had made 17 appearances in all competitions for Stuttgart this season, helping them to top sport in the 2. Bundesliga table.