Mohamed Salah
Salah beats Aguero and Hazard to FSF Player of the Year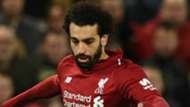 Mohamed Salah has been named the Football Supporters' Federation's 2018 Player of the Year.
The Egyptian attacker finished first in a poll of 366,000 fan votes, beating fellow candidates Sergio Aguero, Raheem Sterling, Eden Hazard, Harry Maguire and Liverpool teammate Virgil van Dijk.
The 26-year-old wins the award after an excellent 2018 in which he helped guide the Reds to the Champions League final, and he is in good form this season again with nine goals in 20 appearances for the Merseyside outfit.
The announcement of his accolade came on the same day it was revealed he finished sixth in the Ballon d'Or chart, behind Lionel Messi.
"Thank you for this award, it means so much to me because it was voted for by supporters," Salah said as he accepted his FSF award.
"Usually I share any awards with my teammates and all the staff at Liverpool, but on this occasion I would like also to dedicate it to the Liverpool fans for their incredible support. Thank you."
Salah is the third player to win the award since its inauguration in 2013. Luis Suarez was the first winner after a stunning campaign at Anfield, while Philippe Coutinho won it in 2016.
Last year, it was won by Tottenham and England star Harry Kane.
After his 32 goal season in the Premier League and appearance at the Champions League final, the former Chelsea and Roma player is gunning for silverware this term.
"My target last season was not only to break the [goalscoring] record but also to win something with the club," Salah said last week.
"We were very close in the Champions League final but this is football, we have to accept the result.
"This time also I can't say my individual one but my target now is to win something for the club. This would be huge for us as a team and as players.
"It's also a dream for the city and for the fans. I think this season we are going to do something."