Arsenal
Robert Pires backs Yacine Adli to be a success at Arsenal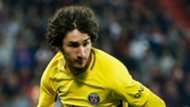 Arsenal legend Robert Pires has backed 17-year-old Yacine Adli to become a success at the club.
The French youngster is expected to join the Gunners in the coming days after rejecting a contract extension at Paris Saint-Germain, where he was previously given his debut by new Arsenal head coach Unai Emery.
Pires believes that Adli, who has been capped at youth level for France, faces a tough task to adapt to English football but is in the right hands under Emery, who can get the best out of him.
"He's a talented player. He has very good qualities, very fast with the ball. Sometimes he can score," Pires said at Arsenal's 2018/19 Puma away kit launch.
"I know Unai Emery likes this player. I don't know what's happened the last two days, but if he joins Arsenal, I think he will be a good player for the new squad."
"He's young and it's very difficult to leave your family, your country and find new players, new football and a new philosophy.   
"It's very difficult, very tough, that adaption. But I know Arsenal is like a family, so if he wants, he can make a success of his career at Arsenal.
"Everything is new and you need to adapt. New football, new teams. So for him, if he joins, at the beginning it's very important to learn and watch what happens on the field because you need to learn every day."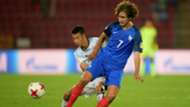 Pires joined Arsenal in the summer of 2000 at the age of 27 and while Adli certainly has youth on his side, the former attacking midfielder reflected on when he first joined the club and was forced to adapt to a more physical brand of football.
"When you are young and you join Arsenal, the communication with the manager is very important," Pires said.  
"My time with Arsenal at the beginning was very difficult. Adaptation is very important and it was very long for me.   
"But Arsene Wenger helped me during five or six months. I learned everything in France, I grew up in France, but England is not the same football. It's very difficult, it's very tough, very physical."