Real Madrid
Real Madrid match at Girona could be postponed amid Catalonia security concerns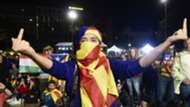 Real Madrid's league match at Girona on Sunday is in danger of being postponed due to security concerns, according to a report from radio station Onda Cero. 
As Catalonia mulls over a unilateral declaration of independence, police are studying the possible effects on Sunday's match, fearing protests and possible violence. 
Real Madrid 6/5 to beat Girona to nil
Spain's central government in Madrid has threatened to take control of the Catalan government, asserting that the region's intent to declare independence is illegal. 
Neither Girona nor Real Madrid have been officially notified of the possibility of the game being postponed, and both sides currently expect to play.
"We hope that it will be resolved soon, but the players are only talking about playing," Real Madrid defender Nacho said following Thursday's Copa del Rey win at Fuenlabrada.
"A suspension? We've heard something, but it comes from outside. We do not have any news."
Barcelona's October 1 match against Las Palmas was forced to be played behind closed doors at the Camp Nou due to Catalonia independence referendum protests, and officials in Girona fear a similar situation may occur on Sunday. 
"We want to play on Sunday, we know what is going on, but we try to think only about sport," Madrid attacker Lucas Vazquez added.
"I follow [the Catalonia issue] a lot, the situation is a bit delicate, but we hope everything is resolved for the better."