Primera División
No words can do Ronaldo justice, says Zidane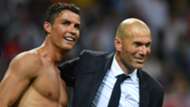 Zinedine Zidane says that no words can do Cristiano Ronaldo justice and says that anything is possible when it comes to the Real Madrid attacker.
Though his goal-count has diminished compared to previous seasons, Ronaldo has nevertheless come up with the goods when Madrid needed him most.
Bale set to be fit for Champions League final
The 32-year-old was inspirational as the Liga giants swept aside Bayern Munich and Atletico Madrid en route to the final, hitting two hat-tricks.
As Real prepare to face Juventus in the final in Cardiff on June 3, Zidane paid tribute to his star forward.
"As you well know, there are no words that can do Cristiano Ronaldo justice," the Madrid boss told Uefa.com.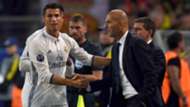 "He shows what he's all about every time he's on the pitch, by scoring goals. He's now got more than 400 goals for Real Madrid in all competitions.
"These are unbelievable stats, but with him anything's possible."
Ronaldo has featured in fewer games overall this season, playing just 29 out of 38 Liga fixtures, and Zidane says that it was a deliberate move in order to maximise the Portuguese's impact.
With 36 goals in 43 appearances in all competitions, it appears to be an effective approach.
Juve chief taunts Man Utd over Pogba fee
"It's a decision we made together, based on discussions together. We're intelligent and even he sometimes needs to play a bit less," explained the French coach.
"It's not because he isn't as physically fit, but because he wants to head into the final stage of the season, when everything is at stake, in top form.
"He has played a lot this year, but there have been a few occasions when he has been left out to have a breather. Now he's in fantastic shape for what remains of the campaign.
"It isn't just about this year, it's the accumulation of all the seasons in his career in which he has played 60 or 70 matches.
"It gets to the point where you need to take a breather."