Manchester United
Is Mourinho partly at fault for Man Utd's injury crisis?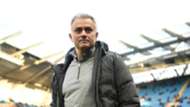 ---
COMMENT
---
Jose Mourinho called Manchester United "very unlucky" when discussing their current malaise this week, and he might have a point. With their season still far from being defined little more than three weeks shy of its denouement, United have been shorn of several players in key positions at a vital time.
Phil Jones and Chris Smalling suffered significant injuries in England training, Marcos Rojo and Zlatan Ibrahimovic both damaged cruciate knee ligaments in the same game against Anderlecht, Juan Mata was forced to undergo a groin operation, Paul Pogba has suffered two muscle strains in the last six weeks and even perennial squad member Timothy Fosu-Mensah suffered a shoulder dislocation this week when given a rare late run-out against Manchester City.
Add in Marouane Fellaini's senseless sending-off on Thursday, and Mourinho finds himself shorn of eight players just when he is most in need of a full squad. "Very unlucky" might be considered an understatement in the circumstances.
Mou: Pogba out, but I might play!
But Mourinho was asked a pertinent question ahead of Sunday's Premier League clash with Swansea City at Old Trafford, with the decision to allow the likes of Morgan Schneiderlin and Bastian Schweinsteiger to leave only a few months ago being held up as a contributory factor to United's current crisis situation.
"To have lots of players without playing is also something that the players they don't want. We didn't tell Morgan we want to sell him, Morgan asked 'Please sell me, I want to go, I want to play every game' so sometimes there is this dilemma of keeping a bigger squad but the players don't want to stay. Even sometimes young players when they are not playing they ask to leave, so it is very hard," Mourinho explained.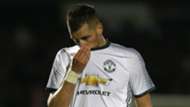 There will be some who rightly point out that other clubs in similar positions have been able to absorb eight or nine injuries at a single moment with slightly less noise than has been coming from the United manager of late, with the ability to keep fringe players sweet key to the art of maintaining a big squad.
Yet Mourinho has always been somebody who has insisted on maintaining a smaller, more content squad. In his infamous first press conference as Chelsea manager back in 2004, he explained: "I cannot have a player in my squad who knows it is very difficult for him to play. When I have 30 players and three right-backs, the third right-back knows from the beginning that, for him to play, the first one has to be injured and the second to be suspended.
"When you have a big box of oranges and one of the oranges is sick, one month later you have 10 oranges to send to the garbage. So I want everyone to have a strong motivation."
Until now, that approach has largely worked for him, but right now he is going through a spell which he admits is completely new to him.
"We arrive into an extreme situation where it must be unique in football that two cruciate ligaments happen in the same match," he said this week. "In my career I had one in 17 years, one cruciate in 17 years. And now against Anderlecht I have two in one match.
"We are very unlucky is the only thing we can say and the other small injuries, the Pogba one, Antonio Valencia last week, are the injuries of fatigue; the accumulation of matches which is normal. Smalling and Jones was in the English national team training."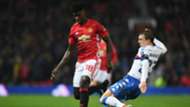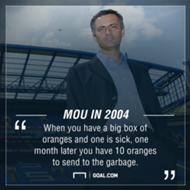 The concentration of unavailable players from the central defence and central midfield positions is of particular concern right now, with youngster Axel Tuanzebe the only alternative to Eric Bailly and Daley Blind at the back and the redeployment of Wayne Rooney alongside Ander Herrera being Mourinho's sole option to give Michael Carrick a break in midfield. Given that only Pogba's injury is borne out of fatigue, it is hard to hold the manager accountable for the nature of the present injury list.
But it is his vision to carry a small squad, and to offer so few chances to the likes of Tuanzebe and Fosu-Mensah which has resulted in them being considered such a downgrade. There appears to be a state of panic at the very thought of a youth product being called upon, and Fosu-Mensah was referred to by Mourinho as an "emergency" option after the draw with Man City in midweek. Such rhetoric has only heightened the perception that United have a critical issue when otherwise it might be considered more an inconvenience.
Mourinho proudly boasted at his United unveiling that "my record of injuries is very, very low," but given current evidence perhaps he is fortunate not to have been stretched quite this much in previous roles.
Man Utd injury and suspension news
The greatest concern to the Portuguese right now appears to be how best to give Eric Bailly a break, with the Ivorian having been thrust into action for 10 straight games at the heart of defence. Yet Paul Scholes recently told Goal that playing regularly is not necessarily a bad thing so long as training is handled correctly.
"The players at this stage of the season are fit enough, they don't need to be doing much training," said the United legend. "I think training will just be a token gesture really and they'll just focus on games now, playing Saturday-Wednesday-Saturday-Wednesday or whatever it may be."
Yes, United have been unlucky, but the severity of their situation has also been influenced by decisions made by key stakeholders at the club, Mourinho included. With a jam-packed schedule still to negotiate between now a late-May they will be hoping against hope that they suffer no more absences for defenders in particular.
If United don't manage to claim a Champions League spot one way or another over these last few weeks of the season it might well be claimed that misfortune has played a part in their failure to meet their target for Year One under Mourinho. But the old footballing cliche that you make your own luck might never have been more apt than when the Special One comes to pick from his depleted squad in the games ahead.