A-League
Fred reflects on Victory's maiden A-League championship
Goal Australia Chief Editor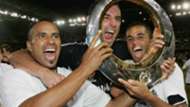 ---
EXCLUSIVE
---
Melbourne Victory will enter the 2017 Grand Final looking to become the first club to win four A-League championships, just over 10 years since they first claimed the 'Toilet Seat'.
Victory are level with Brisbane Roar on three championships and can either break new ground on Sunday or be joined by Sydney FC if the Sky Blues triumph at Allianz Stadium.
The A-League has changed a lot since Victory's maiden success in February 2007 but the competition's second grand final remains one of the seminal moments in the development of Australia's top tier.
Everyone remembers Archie Thompson's five-goal haul as Victory thumped Adelaide United 6-0 in front of a packed house at what is now known as Etihad Stadium.
But while the ex-Socceroos striker understandably dominated the headlines, another attacker with a constant smile also produced a vital performance that day.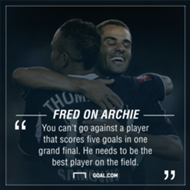 Fred only played 20 A-League matches for Victory but remains one of the more important players in the club's history, as the Brazilian playmaker set up four of Thompson's goals against the Reds.
Speaking to Goal in the lead-up to Sunday's championship decider, Fred revealed the inspiration for his performance came from his first state championship final with America Mineiro.
"My first year as a professional in Brazil, we went to the grand final and it was 80,000 people watching and I didn't play well that game," he said.
"My legs were shaking and I looked at the stadium and there were so many people cheering, and the pressure to win the title… and after that game I say 'you know what, my next grand final, I will give everything of my best'."
Troisi: Sydney FC are vulnerable
Fred joked that he could have won the Joe Marston Medal as best on ground in 2007 if only Thompson had passed rather than score his fourth goal.
"He didn't even look to my side, he just dribbled the goalkeeper and I say 'play me the ball here'… I give 200 per cent to score this goal," Fred said with a laugh.
"I pass it, I run and I say 'here, here' and ok too late, he scores another one."
Victory led 3-0 at the break thanks to Thompson's hat-trick and in the 56th minute Fred released the striker into a one-on-one opportunity with Adelaide goalkeeper Daniel Beltrame.
Victory play down grand final pitch concerns
Fred surged into the penalty area as his team-mate sidestepped Beltrame to the left but the Belo Horizonte-born midfielder was ignored, with Thompson sliding the ball into an empty net.
Speaking seriously, Fred said: "You can't go against a player that scores five goals in one grand final. He needs to be the best player on the field… I was happy because we won 6-0. It was one of the best experiences of my life."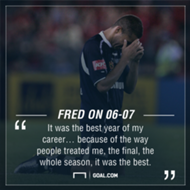 Fred never played for Victory again and within a month he had signed for DC United in the United States.
Reports at the time indicated Victory simply couldn't match the money that was on offer in MLS but Fred insists the move was about trying to earn a contract with a big Brazilian or Mexican club.
That dream move never eventuated though.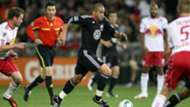 Fred, DC United
Now based in USA where he works as an academy coach for Philadephia Union, Fred still has very fond memories of his one season with Victory.
"Totally number one, hands down, you can't question that," he said.
"It was the best year of my career… because of the way people treated me, the final, the whole season, it was the best one."
After leaving Victory, Fred played for DC United, the Philadelphia Union and the latter's feeder team Bethlehem Steel, while he also returned to the A-League twice with Wellington Phoenix and Melbourne Heart.