Transfers
FC Cincinnati acquires Adi from Portland as club's first designated player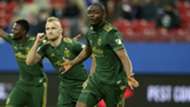 FC Cincinnati has announced the acquisition of striker Fanendo Adi from the Portland Timbers in exchange for $450,000 in general allocation money and $400,000 in targeted allocation money.
Adi, 27, becomes FCC's first designated player ahead of the club's entry into Major League Soccer next season. 
The Nigerian will play for FCC for the remainder of its final season in the second-tier United Soccer League before the club makes the jump to MLS in 2019. 
"We are incredibly excited to bring in a proven MLS goal-scorer to our club," FCC head coach Alan Koch said in a club release. "The fact that Fanendo has committed to join us now, in this mid-season transfer window, shows how he believes in our team project and where our club is going."
Adi has been prolific for the Timbers since joining the club in 2014, scoring 54 goals and adding 14 assists in 126 regular-season appearances during five seasons in Portland. 
"Adi's place in Timbers history is firmly entrenched, as one of the top goal-scorers across all eras of the club and for his considerable efforts in helping lead Portland to its first MLS Cup in 2015," Timbers general manager Gavin Wilkinson said in a club release. 
With the emergence of Samuel Armenteros this season, Adi had been rumored to be seeking a move away from Portland in recent weeks. 
In addition to their allocation money haul, the Timbers will also receive up to $100,000 in future targeted allocation money based on Adi's performance with FC Cincinnati in 2019, as well as a portion of any possible international transfer up until 2020.