Chelsea
Chinese Super League spending to be curbed by new CFA regulations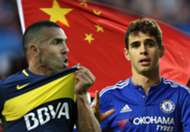 In an effort to curb spending on superstar imports, the Chinese Football Association has imposed new regulations which will limit the number of foreign players allowed to feature in each match, Goal understands.
Diego Costa is the latest to be linked with a lucrative move to the Far East, with the likes of Carlos Tevez, Oscar and Axel Witsel all completing transfers to the Chinese Super League in recent weeks.
Tevez became the highest paid player in world football when he left Boca Juniors for Shanghai Shenhua, reportedly earning over £32 million a year in wages alone.
Real Madrid's James Rodriguez also reportedly turned down a £95 million move to CSL side Hebei Fortune this month - an offer supposedly worth £500,000 per week for the Colombian.
Now, however, the CFA have informed all CSL clubs that they can field no more than three foreigners in the same match, while the new rules also stipulate that at least two under-23 players must be included in the 18-member squad - and one of them has to be in the starting line-up.
The number of overseas players allowed in a full 18-member squad is still five, however, while the Asian player quota has been abolished.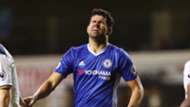 Speculation surrounding Costa's potential switch to China suggests the Brazil-born Spain international would earn up to £560,000 per week should he complete a move, though Chelsea boss Antonio Conte has dismissed the talk as rumours.
Following reports of a training ground bust-up at the same time as alleged CSL interest, Blues boss Conte left Costa out of his squad which travelled to Leicester on Saturday, with the club's explanation pointing to a recent back injury.
Chelsea already beat last season after just 21 games
Chelsea extended their lead at the top of the Premier League table to with a 3-0 win, and Conte was quick to pour cold water on the rumours at full time.
"I don't know anything about this," the Italian told reporters. "The club didn't inform me about this. For this reason it can be only speculation."