CECAFA Senior Challenge Cup
Cecafa cancels 2018 Senior Challenge Cup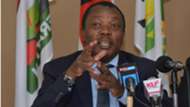 Cecafa have confirmed the cancelation of this year's Senior Challenge Cup.
Kenya had been picked to host the tournament but they pulled out in the last minute. Cecafa have now confirmed that the tournament will not take place because they could not secure another host.
"It is not possible to have the tournament played this year. We have tried our best to secure a new host but none is willing to. And also it will not be possible since the Caf Champions League and Caf Confederation Cup will be played in the same period.
"We have moved to cancel the same and will try to stage the tournament next year," Cecafa secretary Nicholas Musonye told Goal.com in an interview.
Kenya were handed the rights to stage the tournament, a year after winning it following a penalty shootout win against Zanzibar at Machakos Stadium. The regional tournament brings together over 13 countries from the region.