Arsenal
Bellerin prepared to defy wishes of Arsenal boss Wenger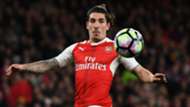 Hector Bellerin is prepared to defy the wishes of Arsenal manager Arsene Wenger and grace the 2017 European Under-21 Championship.
The Spaniard has struggled for form since suffering an ankle injury earlier in the season.
Bellerin: Boos make me stronger
Wenger believes the full-back is still not fully recovered from that knock and admits it would not be "ideal" if the 22-year-old heads away with his country this summer.
Bellerin, though, claims he will accept a call if one comes his way.
He told IBTimes: "I really want to play.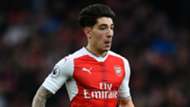 "Representing Spain is very important. If [Albert] Celades gives me the chance I'll be there.
"Those are opinions of the managers. I have to keep working. The truth is that I had a difficult injury but I think that I am at 100% now and I'll try to prove it when I get the chance."
Wenger: Bellerin criticism unfair
Bellerin has also addressed the issue of his long-term future at Arsenal, amid ongoing speculation regarding a possible return to his roots at Barcelona.
He committed to a new six-and-a-half-year contract with the Gunners in November and maintains that it is his intention to honour that agreement.
Pressed on whether he will still be at Emirates Stadium next season, Bellerin added: "I think so. I still have many years of contract at Arsenal and for now it is what it is.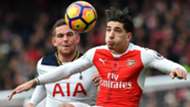 "I just signed a new deal earlier this season and I am at the disposal of the manager for whenever he needs.
"I do not know about the offers I get. My job is to focus on the pitch, what happens off it is something for my agent."
Bellerin still a Barca target for a reason
For now, though, Bellerin is seeking to force his way back into the Arsenal side, with Wenger's tactical switch to three at the back leaving him on the bench for a Premier League clash with Middlesbrough and a FA Cup semi-final date with Manchester City.
"With the change of the formation there are other players who also have the opportunity to do well," he admitted.
"[Alex] Oxlade-Chamberlain has proven it [against City] and he has done it very well. Now I am waiting for my chance."